The perfect winter wedding at one of South Africa's oldest hotels, Chris and Candice's day was a celebration of earthy touches and historic elements. We loved the bride's romantic dress and the rich fauna details, instead of flowers. An eclectic mix of European sophistication and relaxed atmosphere – not to be missed!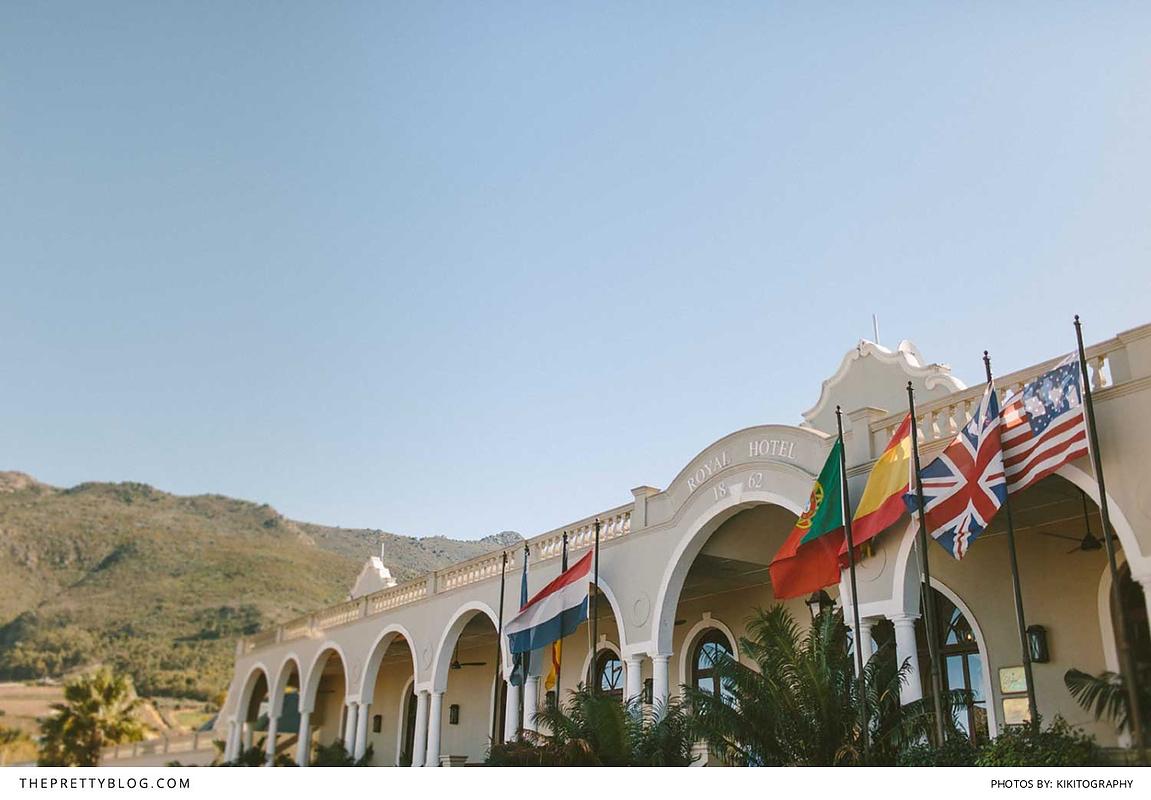 Their Story
We were each other's first love in high school but Chris moved to the UK for nine years and a few years ago he made a point of meeting up with me for a drink while down in Cape Town on holiday. From that moment on, we just could not stop communicating, whether on Whatsapp, Skype or expensive phone calls. Chris invited me to Europe for a few holidays and flew down to South Africa for long weekends when the longing became too much. He decided to give up his life in London and moved to Cape Town at the end of 2014.
In June 2015 we travelled to London and Europe again. On the way to a music festival in Victoria Park, Chris got down on one knee next to the beautiful, yet vibrant, Regent's Canal. Needless to say, the rest of the day was a party!
Their Style
We have very similar tastes, which helps a lot. Simple, beautiful, eclectic, unique. We decided not include flowers and our home is filled with green, leafy hanging plants and incorporated these into our special day. We used succulents, kokedama hanging plants (Japanese moss balls) and geometric copper ornaments to complete the decor. We also liked the idea of being able to use the plants afterwards and actually see them grow throughout our married life. We'd asked all our guests to dress relatively formal, which seemed a prerequisite for the beautiful setting of the oldest hotel in the country. We absolutely insisted on a full weekend wedding, knowing how quickly the time would fly by – we decided to take over the small town, Riebeek Kasteel.
Did anything unexpected happen on your wedding day?
Without me knowing, Chris had organised for everyone to get up and sing David Bowie's Life on Mars, with the lyrics on a projector. It was an amazing atmosphere – this is one of his favourite musicians and our cat is also called David Bowie!
The Dress
I've always loved Europe and the classic European style which was a major influence in my dress design. Alana van Heerden is honestly the most talented, patient designer on this planet! Without exactly knowing how to execute the picture in my head, she helped me get there in the end and the result was beautiful.
Tips for planning
Create two very important lists. The first is an estimation of all the costs involved, updated with actual costs as they come in and broken down per category (i.e. the lawyer, venue hire, dress). The second is a list of all the detailed planning you need to do – like planning the order of readings with the priest, the order of speeches or providing your MC with enough background on each person who is going to make a speech.
The DIY
We didn't have a wedding planner so everything was almost DIY and it's actually very doable. Especially if you don't make use of florists and do your own decor.
A royal time at The Royal Hotel
The Royal Hotel is a cozy, perfect winter wedding venue. We used every room in the hotel and guests were able to roam around freely. The hotel staff was amazing and very helpful – they moved all the furniture around and created little lounges with fires going the whole time.