Danie and Laura's destination wedding in Portugal instantly made us wish that we were spending the summer in a coastal town filled with cobblestones and markets. Sweet and elegant, the bride made sure the day was filled with dancing and laughing!
Their Story
Danie and I met in March 2013, when we were both invited to an event in Galway by his rugby teammate. Danie and his friend approached me towards the end of the evening and we starting chatting. He asked me to attend an after party with him but I was quite wary so I politely declined. He contacted me through Facebook the next day and invited me for coffee. We talked for hours and had no choice but to leave the restaurant, because they were starting dinner service! Danie was such a gentleman and it was apparent that he had a good heart with excellent values and clearly he was a driven, positive person. The previous year he'd moved from South Africa to Ireland, without knowing a single person, for his rugby career. I thought he was the most handsome man I'd ever seen and I called my sister on the way home and told her that Danie was the one!
Danie proposed to me a couple of days after my birthday in front of the Azure Window on the island of Gozo, Malta. It was the most beautiful setting – he'd planned to do it at sunset but after waiting for the other tourists to leave it was dark by the time he got down on his knee! The proposal was perfect and I was the happiest girl in the world that evening.
The Style
We wanted our wedding to be a relaxed occasion, a big party with lots of dancing and wine. We both love food and we wanted to ensure that there was lots of delicious food for our guests. I'd always wanted to get married on a vineyard – my parents are wine lovers and I grew up visiting vineyards in Europe every summer. My dad discovered Quinta de Sant'Ana and Danie and I visited the family-run vineyard in February – we fell in love with the venue instantly. It was perfect and precisely what we had in mind. We were a little worried about asking our guests to travel from South Africa and Ireland to Portugal but having our wedding abroad in the sunshine was the best decision we ever made. It was a week of celebrations and the Irish and South Africans had a great time together. We joke that we will renew our vows there with Danie's best man and his wife in the next 10 years so that we can relive that special time all over again.
All about the details
I really enjoyed planning and styling our wedding. We chose to have the ceremony outside in the vineyard under a beautiful floral arch of hydrangeas and delphiniums. It suited the rustic atmosphere, with long wooden tables, lots of greenery, white flowers and tall white candles. We used beautiful Quinta de Sant'Ana stationery, which were held by corks from their wine bottles – Ann and her team did an amazing job on the day! Live music throughout the whole day was a priority for us both so the band played during the ceremony, the cocktails and after dinner. After the band, my brother-in-law played until he was literally unplugged by the staff.
Memorable moments
Groom
One of my childhood friends, who flew all the way from America, is a very talented musician. Towards the end of the evening, he surprised us by singing an acoustic version of Swedish House Mafia's Don't You Worry Child. Although I'd promised not to get too emotional, I couldn't help but shed a tear when I saw Laura walking down the aisle!
Bride
There was a very special moment in the morning when my bridesmaid Louise gave me a poem she had written about our friendship. She later agreed to read it during the reception. When we were ready and leaving for the venue and I first saw my dad looking so smart in his lovely light blue suit, I got very emotional and I couldn't hold back my tears. When we entered the reception to The Beach Boys' God Only Knows I was filled with so much happiness at the realisation that I was sitting down for my first meal with my new husband. I danced all the way to my seat!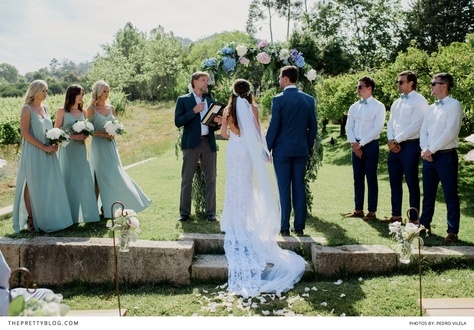 Did anything unexpected happen on your wedding day?
My bridesmaids and I were getting into the car to leave for the venue when Danie and his groomsmen drove past. They roared at him not to look and he had to drive around the traffic circle without looking to his left!
The Dress
I chose a dress by Grace Loves Lace with handmade from soft French lace and hand-cut lace applique on every edge. It had a flattering high neck with a plunging V-neck lining and a daringly low open back. I adored it – it was so comfortable and I loved dancing in it! It was so lightweight and easy to wear in the heat and it travelled from Australia to Ireland and then Portugal exceptionally well! I also wore a flower crown and a beautiful simple veil created by Galway milliner Edel Ramberg.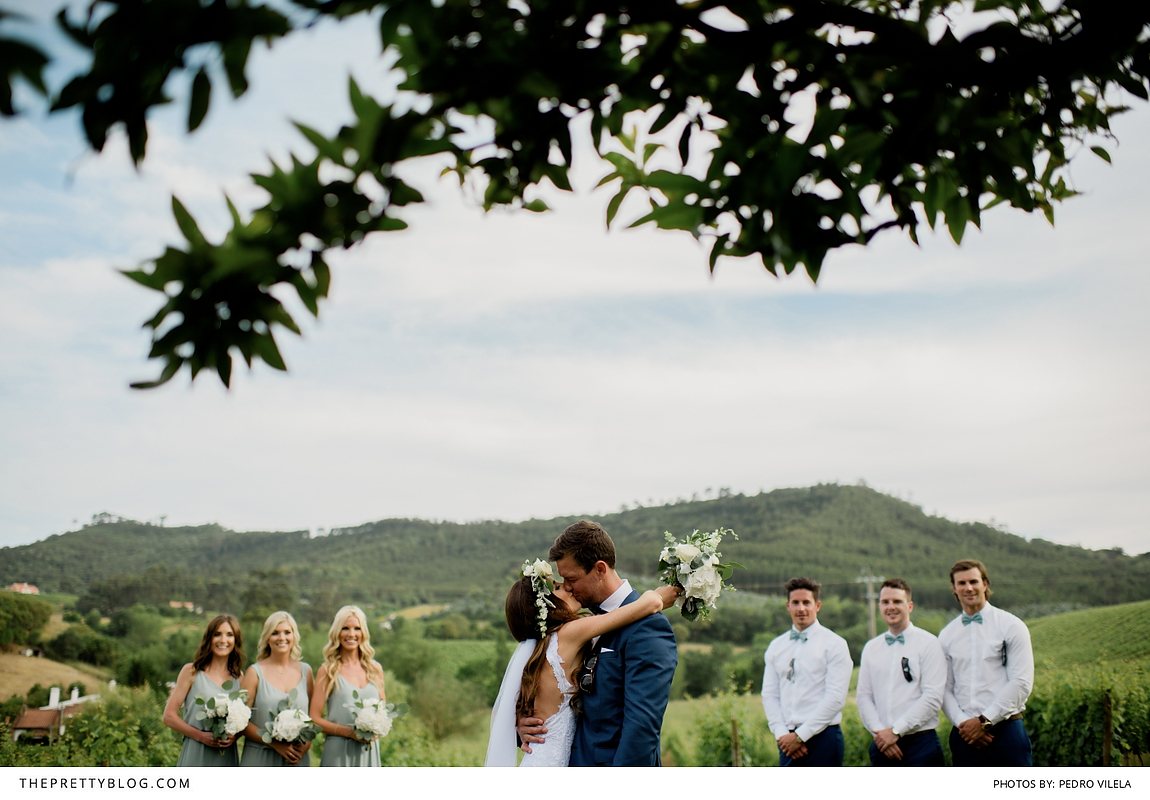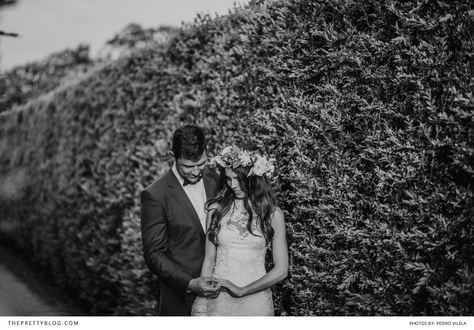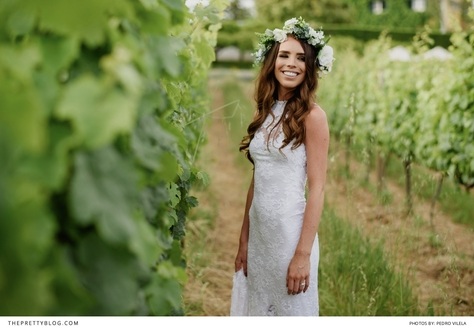 Tips for planning a wedding
We were worried that many of our guests had never met, so we arranged a party two nights before the wedding. This was a great success and ensured that our wedding day was relaxed and great fun for everybody. Don't sweat the small stuff, because everything will fall into place on the day. Be in the moment and do whatever you want and what makes you happy – I danced all day!
The day after…
We reserved a whole restaurant the following evening to continue the celebrations. It had beautiful views over the Atlantic ocean and we were lucky enough to see the most amazing sunset. We drank lots more wine and my brother-in-law made sure the music was sorted.