This vintage-inspired, outdoor celebration was a beautiful take on the venue's historic Art Nouveau design and we loved the soft, feminine touches the team showcased. Those delicate feathers in the cake and hair accessories tied it all together perfectly. The wedding dress was elegant and romantic – perfect for an intimate, backyard get-together! We asked stylist and floral designer Natalia, from Bloemenmeijes.com, to tell us how the team of creatives brought their day to life.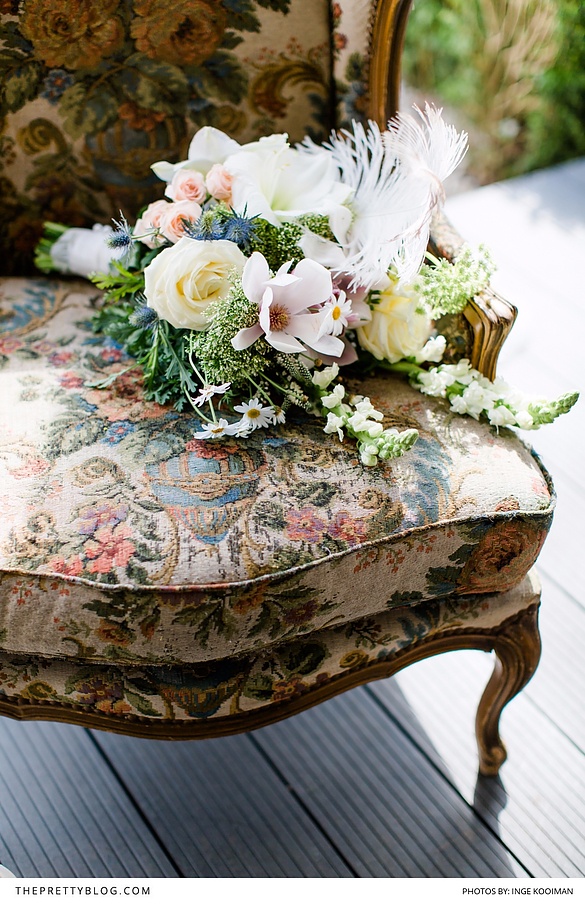 The Venue
We chose the beautiful Parkhotel Hugo de Vries as the venue for our day of vintage inspiration. The Parkhotel is a gorgeous, Art Nouveau building dating back from 1906. It has a rich history, with lovely 1920's style and a breathtaking stained-glass windows creating an intimate, rustic ambiance. We wanted to use that touch of history and create an Art Nouveau wedding with a modern twist. Thanks to our photographer, Inge Kooiman, we easily achieved our dream.
The Style
One stylish feature from the 1920's was the abundance of peacock feathers, which is why we made them the vocal points of the theme. I used peacock feathers in the centerpiece of the dinner table and ostrich feathers in the bridal bouquet. I made sure to choose gentle, soft colours like champagne, grey and green, with an accent of pastel rose flowers.
The Details
Laura, from Laura van Rooij Bruidscouture, designed an eye-catching vintage dress – the top was made from heavy, beaded material and the signature 1920's butterfly sleeves. Hair and make-up was done by Bert de Zeeuw and Eugene Romein. They created the sultry vintage beauty using red lips, smokey eyes and handmaid hair accessories, beautifully incorporating peacock feathers in the look.
The wedding cake was made by Sweet Appetite and included feathers, thistles and golden speckles – a work of art! The tablescape took us back in time, with details like the serving utensils which dated back to 1919 and the antique table on which all of this magic took place! Stylist and owner of Parkhotel Hugo de Vries, Ellen van Oostenbrugge, hoped that our day would take people back in time but still have enough modern touches to inspire brides who like the vintage romance of it all.