Lucille and Dries' day was a natural, sophisticated setting with a relaxed atmosphere and beautiful elements. The floral highlights throughout and touches of wood and ceramic added the perfect touch to it all. We loved the bride and her bridesmaids' unique dresses – a lovely combination of trendy and classy.
Their Story
Lucille and I met at the end of 2012 and started dating early the following year. From the start we decided to create our own definition of happiness, based on the type of relationship we wanted to have with one another. As time progressed, we had to work through the difficult times and celebrated the good ones, which ultimately helped us to grow within the relationship. We both have strong, type A personalities but today we understand each other and know how to manage our emotions.
Towards the end of 2015, we decided to start shopping for "the ring" and there was one that caught Lucille's eye. One weekend, we visited one of our favorite forests (we love forests!) near Wilderness for a picnic and everything lined up perfectly – including the answer to the big question!
Their Style
As Lucille is an interior designer, there was a strong focus on the decor. She wanted the interior to feel like our home and not like a typical wedding. The venue originated from 1792, with a beautiful, old-world, rustic charm paired with some glamorous, timeless decor as well as a few contemporary pieces. These elements balanced well with each other to create a relaxed environment where guests could feel comfortable and uplifted.
As a couple, we entertain frequently and music is key to the success of any function – it's no different for a wedding. We literally planned our wedding date around the availability of Mitzi (DJ Chopper) — and she rocked the party! We also love good food and the idea was to have a homely feel, with generous, healthy and insanely tasty dishes. We also had a gin bar, with a combination of four "favourite" of Hope on Hopkins' speciality gin mixes.
The Elements
Lucille designed the whole experience, from start to finish. She is a very visual person, with an eye for detail, and a designer at heart. One strong element that featured throughout our celebration, was an image of antique peonies – from our save the dates to a massive wallpaper installation in the main function hall. The colours for the day also came from the peony image: cream, beige, dark emerald, brown and charcoal. At the ceremony, we had a backdrop of magnolia leaves and white St Joseph's Lilies hung upside down – the flower arrangements were a combination of neutral and lush, dark green leaves. Exquisite, gold cutlery was paired with cream, hand–crafted crockery and cement, chalky vases were combined with tinted glass.
Memorable moments

Dries
The moment I saw my bride, looking so stunning and so happy! I will never forget the joy she emanated as she stood there, clutching my hand. She had worked so hard to make the day special and it was worth it. I absolutely loved how everything fell perfectly into place and every moment was so special!
Lucille
Walking down the aisle and seeing my Dries-maester, my face felt like it was about to burst with happiness! I loved the moment we entered the hall, as well as our first dance! And our speeches were unforgettable — honest, raw and straight from the heart.
The Dress
I'd always wanted a big dress, but I also wanted to be comfortable. After weeks of trying on dresses, my head spun and I realised that a big dress doesn't work with my body. So, I opted for a very plain evening gown — a typical mermaid shape and one of my bridesmaids convinced me to go to KLûK CGDT, even if just for one consultation. That's where it all started! I walked into the consultation room and saw a railing filled with different evening gowns. We discussed the mermaid–shaped dress that I had in mind but after spotting a ball gown on a mannequin, I couldn't get it out of my head. My bridesmaid convinced me to try it on and the rest is history!
Malcolm and Christiaan started reworking the design from scratch and, as inspiration, I gave them an image of a top that had organic, deconstructive folds at the top. They were absolutely amazing throughout the process, even allowing me to change my mind halfway through!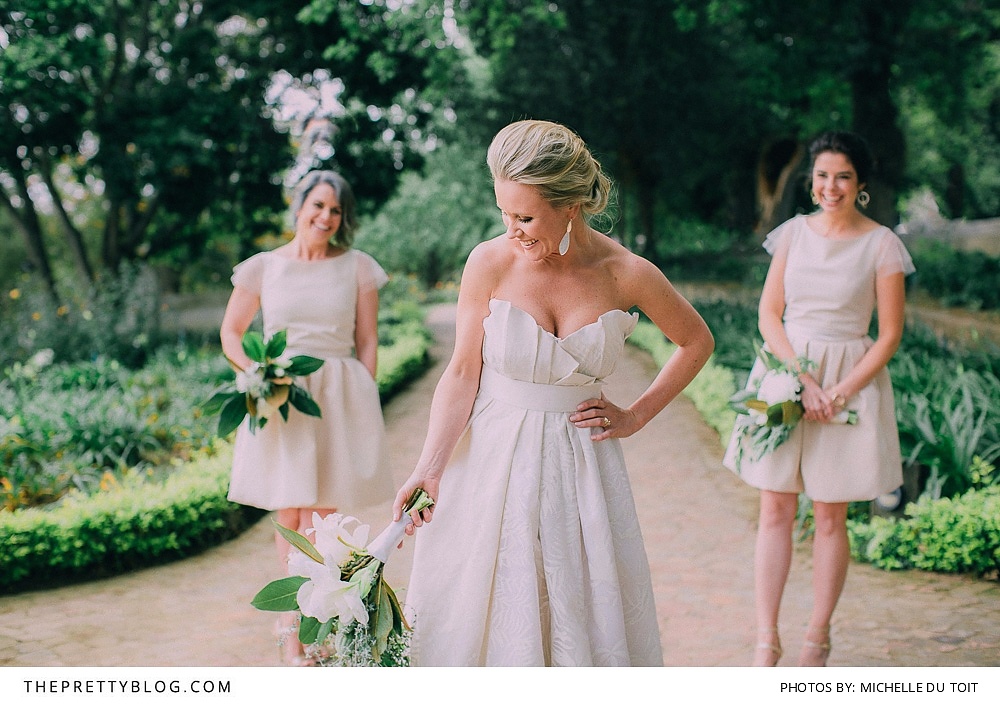 The Budget
Look outside of the wedding industry – you'll be surprised at what the price difference is. Hard work and diligently looking for more affordable alternatives are the only ways to really save any money. Make use of things that you can re-use after the wedding. For example, the wallpaper we printed as the backdrop was stretched over a timber frame so that we could use it after the wedding as an installation in our house, serving as a memory of our special day. Do what you can in your own capacity and let the rest go – there's no point in making yourself sick over things that you can't control or can't get to.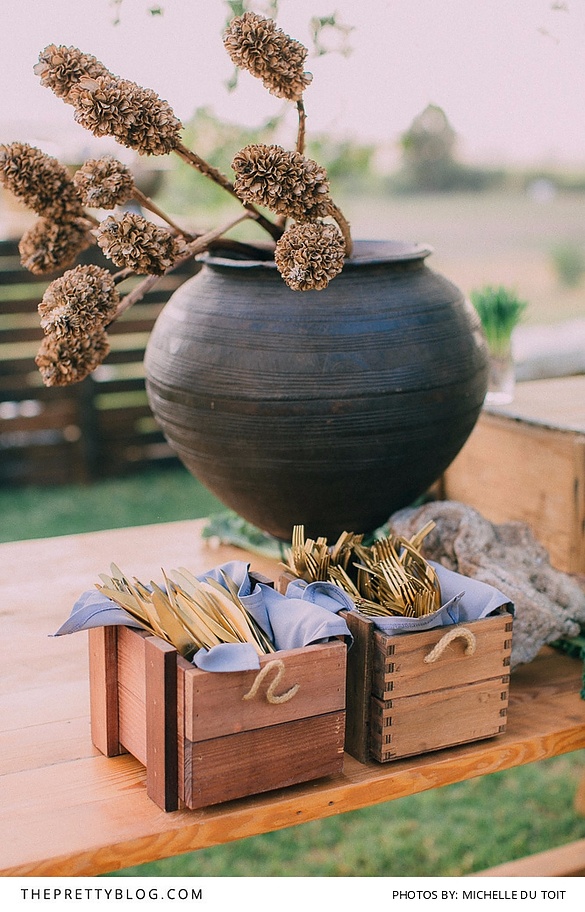 The DIY
We made all the tablecloths and hay bale covers ourselves. From the off cuts we made little flags that said yay, for the guests to wave as we walked out of the ceremony. We also made our own confetti by buying a roll of matt gold 25mm wide ribbon, on big rolls from Meripak and cut out random shapes, combining them with shiny gold hearts and star confetti. The combination of shapes and colours looked incredible on the photos!