Outdoor Romance is all about celebrating those special moments against a backdrop of the setting sun or under a romantic, starry night. That's what we loved about this bushveld-inspired setting – the earthy colours accompanied by pops of bright hues, beautiful wooden tables paired with delicate glass accents. It all worked together to create a naturalist inspiration for any day – birthday party, wedding or just a simple, romantic date night! We asked Natja Reney Lifestylist to tell us where the inspiration came from for this open-air setting.
Africa Inspired
Africa is filled with rich histories and inspirations, which we wanted to bring to the table. It's this diversity that makes us unique to the rest of the world. I wanted to bring together different South African artists and stay true to the designs that the world associates with us, while showing how these designs can be used in our every day lifestyles or wedding celebration.
Bringing it to life
We realised that inspiration comes from the simplest things and we can even create something great from scrap materials. So we came together to create a beautiful bushveld celebration. Marsel Roothman captured the day, while Maria Magdalena Atelier designed all the stationery and Missy Makeup Artist was in charge of the beauty. Tana Ferreira, from Die Kaal Konyn, was our bride, dressed in White Lilly Bridal designs and Lorean jewellery. We found the most beautiful head band, clutch and umbrellas from Babatunde and combined these with furniture and decor items from Garden Bleu and Live Simple Rental.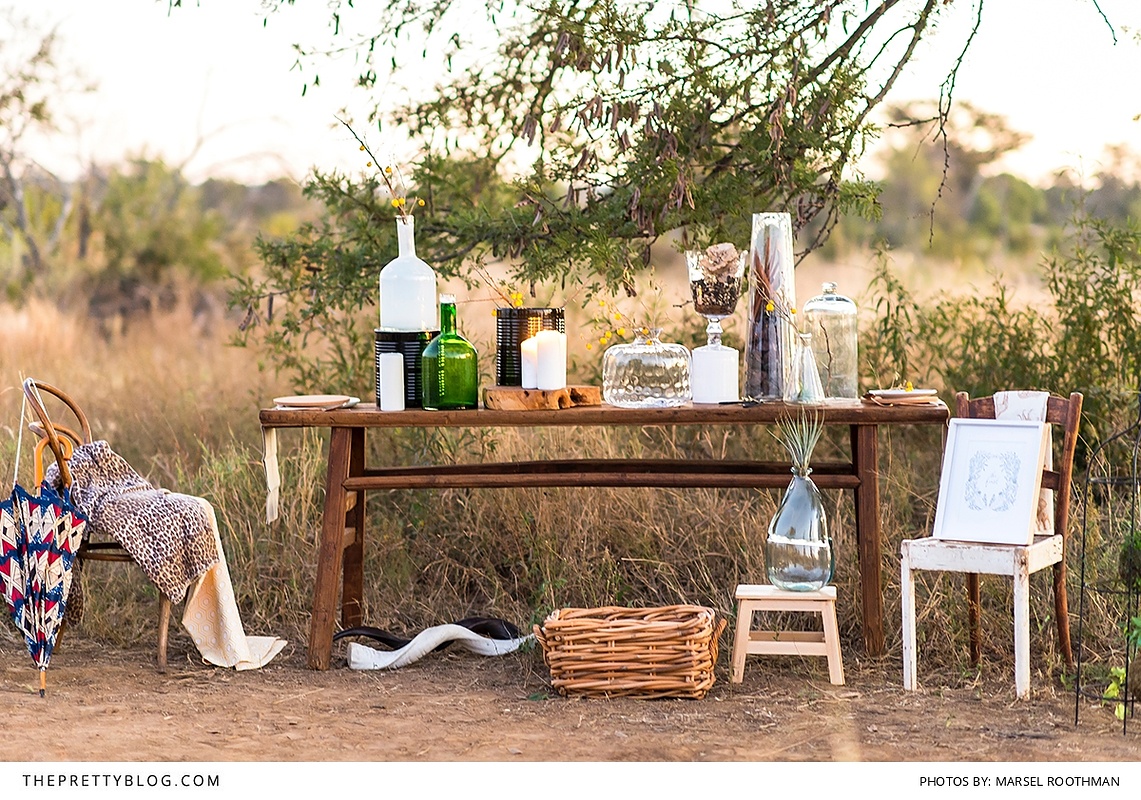 The Table Setting
We are so fortunate to live in a country where our surroundings inspire the colour palette and decor of our dinner tables. I have an extreme love for the bushveld and the incredible detail found in its simplicity. We used elements made from items found in nature or sourced from the bush on our earthy tablescape.