Stuart and Sarah turned from teenage friends to lifelong loves in this celebration of everything sweet and delicate. From the flower crown the bride chose, instead of a veil, to the groom's trouser mishap ten minutes before the ceremony, their day was filled with happiness and laughter. A true testament of their journey together, they included help from their friends and family to make the day a resounding confirmation of their Lovely theme.
Their story
I met Stuart through his sister, Jaimie-Lee, who had become my friend during our years spent at Chisipite Senior School in Harare, Zimbabwe. Stuart's the "dream catch" – captain of the first team rugby, deputy head boy, toastmaster. I had a school girl crush on him from the moment I laid eyes on him and from the moment I met him, Stuart became an indirect part of my life. We always kept in touch via social media but it was nothing more than friendly banter.
While visiting Rhodes, in 2010, I stayed with one of my best friends (and future bridesmaid) Tegan, who happened to live with Stuart. We spent the weekend getting to know one another but it still didn't go any further than a friendship because I was still in a committed relationship. It wasn't until we were both in Cape Town, both single, that we truly connected. We spoke nearly everyday and, with my parents living abroad, he was a rock for me. Our friendship progressed from strength to strength and after three months of talking every day we officially started dating. Two years later Stuart proposed on a beach in Mauritius – I'd never been happier!
The style
Our venue, Langverwagt, looked like something out of a story book with its blooming, lush gardens, tall whispering trees and the setting was, in my opinion, very ethereal. For us, being surrounded by nature and, in particular a forest, was very important. It was in a forest that our relationship began to blossom and to this day we find peace and togetherness by walking along forest trails.
Finding beauty in simplicity was the key to the day. We wanted the natural beauty of our venue to shine through for ur guests, rather than being bombarded by over-the-top glitz and glam. We wanted the focus to be on us, our ceremony and the coming together of two families – intimate, simple, significant and full of love.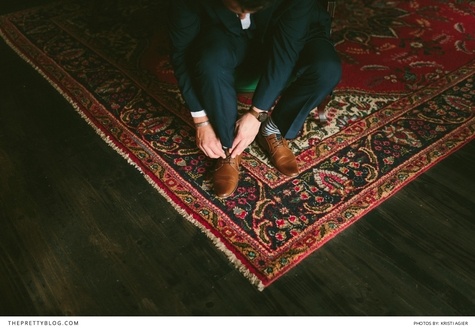 Bringing the day together
The theme for our stationary was "Lovely", the nickname Stuart and I have for one another and it resounded in every moment of our day. My flowers were the best of any day (not biased at all!). The floral wizards at Fleur le Cordeur created floral art for our centerpieces and I couldn't have asked for a more spectacular spread! The bases of the arrangements were King Proteas surrounded by white and blush roses, with various leafy plants to fill the gaps. It was magnificent.
Their memorable moments
Groom
One of my highlights was glimpsing Sarah as she started to walk towards me down the aisle. She was the most beautiful I had ever seen her and I was overwhelmed by the feeling that I had finally found my soulmate and life was complete. Another favourite was when I slid the ring on her finger and she whispered, so that only I could hear, "Yaysies!". It indicative of our relationship – never too serious, with space for quirkiness and silliness. It reflected the balance that our relationship always had; that, even during one of the most serious and significant moments of our lives, there was still an air of fun and laughter. Something I believe is vital to a happy, healthy relationship. My favourite quote, which I kept repeating on the day, was, "Home used to be a place, but now it is a person". That person is SJ.
Bride
One of my highlights was reading Stu's letter he had written specially for me for the morning of the wedding. His words were beyond beautiful and my favourite line was, "I'll be waiting this afternoon, with my arms and my heart completely open for you, come grab my hand…". Our first kiss as husband and wife and being introduced as Mr and Mrs Pattison to resounding cheers and applause. I had goosebumps hearing that I was now Mrs Pattison and that this incredible man standing beside me was my husband – what a privilege.
Did anything unexpected happen on your wedding day?
About ten minutes before the ceremony, Stuart's trouser seam unraveled – leaving him with half trousers, half skirt. He dashed into the bathroom, threw his trousers to his best man, Dave, and said "I don't care how, just fix it!" Luckily, being a family run estate, Langverwagt's resident granny quickly sewed them back together. Thank goodness I was running a little late…
The Dress
My inspiration came from visiting Robyn Roberts's studio. I must have tried on every dress she had and together we designed the ultimate dress. I wanted something soft and elegant but also something that paid homage to my mum, who wore a champagne dress at her wedding, accompanied by a beautiful flower crown. So, after a multiple appointments and many "Dear Robyn, I've been thinking…" emails, I finally had my perfect dress. The final design included a figure-hugging stone champagne lining, Chantilly lace and a low illusion back with a slight train. Paired with a stunning flower crown, instead of a veil, it was my idea of perfection!
Any tips on planning a wedding?
Don't let Pinterest overwhelm you! I avoided it for a the first few months as I found that I couldn't decide on one theme and was bombarded by too many ideas. Find your style first and then do research according to that one idea. Also, delegate – its really helps. People want this day to be perfect for you, so don't stress too much because they'll come through. Lastly, start early, take notes, get organized and have fun! The planning experience is half the fun of getting married.
The budget
Ask your friends and family for help – you'll be amazed at how talented they are. So many bits and bobs from my wedding were designed, baked or made by a friend or a family member. Not only is it cost effective, but it also makes them feel a part of your day and customizes it in the best way.
The DIY
All my stationary was DIY – it was designed with help from my sister-in-law, Jaimie Pattison. All our desserts were made by my wonderful friend Sarah Dall. We also gave our guests the soundtrack to our lives together, on a CD we made for their gift.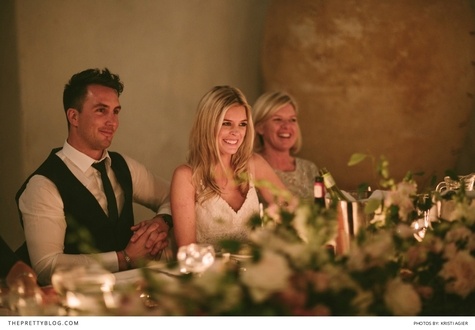 ---