The bright colours and combination of different textures is what makes this wedding so unique. The couple shared a love for an ancient culture, steeped in traditions, and used their favourite parts to make the wedding day as special as they could. The fact that they chose to DIY most of the elements was even more impressive – the bride even designed and created her own dress! What really caught our eye was the truly breathtaking and authentic hairpiece she commissioned, all the way from Japan.
Their Story
I had been friends with Louis' cousin, Francois, since high school but only met Louis a few years later when I attended a fund raising event at my grandmother's care home. There I bumped into Francois and Louis who were also attending to support their grandmothers, who happened to be in the same care home. Both Louis and myself were starting up our own businesses at the time, and although we were in completely different fields, we immediately found that we had so much to talk about. At the time, my label Blackeyed Susan Clothing, had just gone independent and I was in the process of setting up a website and online store. Louis, being the tech savvy guy that he is, offered to help me and we began spending more and more time together. We were only good friends at first but Louis is such a great guy – so kind and patient – that the more time I spent with him, the more I realised what a gem he was. On our first date, instead of bringing me a bunch of flowers, he brought me a little Blackeyed Susan plant in a pot – I was sold! We started dating and a year later, on our first anniversary, Louis took me to Nobu (at the One and Only Hotel) and popped the question. Of course the answer was yes!
The Style
One of the many things Louis and I have in common is our love for Japanese architecture and design. When it comes to designing clothing, I am highly influenced by Japanese fauna and flora, the woodblock prints, gorgeous kimonos and intricate obi belts. We really wanted to echo this aesthetic in our wedding celebrations.
As a couple, we are pretty calm and collected – probably because we run our own respective businesses, where we have to work with people and deal with a number of everyday challenges. We were therefore both very realistic when it came to our expectations of the big day. We gave every supplier a basic outline of the Japanese/oriental aesthetic we were inspired by and left it in their court to interpret it in their own style. The results were absolutely breathtaking. Each one of our suppliers overwhelmed us with their attention to detail and the passion that they had for their craft.
Lorraine from Lol's Flowers blew our minds with her bountiful oriental inspired arrangements, while Wade from Wade's Cakes created the most beautiful black and gold cake and cupcakes. Breakfast Included created a perfect soundtrack to the celebrations, which was classy and jazzy. It is an absolute joy to now look back on our special day, spectacularly captured by Kaitlyn De Villiers' crisp, clean documentary-style photography.
Most Memorable Moments
Groom
Melissa made sure that I never knew what my wedding band would look like – she wanted it to be a surprise for me on our wedding day. She worked closely with our very good friend Tracey, from Made of Mettle, to design something that would be truly unique, which I had to fit on whilst blindfolded before the big day.
On the day of our wedding, as we were getting ready, Francois (my best man and cousin) gave me a beautifully wrapped gift box, which my wife-to-be had secretly arranged. She surprised me with an incredibly cool rose-gold Diesel watch and a card, describing how much she loved me and how she was looking forward to our special day. I later found out that the watch perfectly matched my custom-designed wedding band! I still receive compliments on my wedding band – people love the fact that my wife went the extra mile to design something special for me.
I had to work hard to keep a stubborn tear at bay when I saw my gorgeous bride for the first time, but luckily I managed and after she finally said I do, the wedding band was unveiled. My wife had to use some force to get the ring on my finger, as my fingers had swollen from the heat and the nerves. It didn't really matter, because I knew that I would never want to take it off as it symbolized our eternal, infinite love. I'm so grateful to be married to such an amazing person who wanted to make the day extra special for me.
Bride
I had decided to stay at the 12 Apostles Hotel and Spa with my mom the night before the wedding. It was just the two of us. My mom and I have an incredibly close relationship – we are business partners in Blackeyed Susan and she is my best friend. I am particularly fond of the memories from that night spent with my mom; we had the most delicious dinner, chatted about our excitement and enjoyed the last moments by getting ready together on the day.
My best friend of 15 years and maid of honour, Raine, is an incredibly talented make-up artist and had offered to do the make up for myself and my bridal party. This was incredibly special to me, because I hadn't expected her to be working on my wedding day, but she insisted. It was incredible to watch her work, transforming my mom, bridesmaids (including herself) and myself for my wedding day.
Louis and I speak to each other every day and we share everything, but on our wedding day I hadn't seen or spoken to him because we wanted to keep the tradition of seeing each other for the first time at the ceremony. I really missed him even though I knew he was just upstairs getting ready. This made it even more exciting and all I wanted to do was hear his voice. I wanted to tell him about my day and about how nervous I was. So for me the most anticipated part of my wedding day was seeing my future husband waiting for me at the end of the aisle. As my dad handed me over to Louis, my nervous hand reached out and grabbed his and I held on to him until we said our I do's.
Another memorable moment was the incredibly sweet speech my dad had written for me – he aligned my name, Melissa (which means honey bee), to busy bee and drew inspiration from my designing and passion for creating new things throughout my life.
Really Grateful
This was the greatest day of our lives – nothing went wrong in our eyes. I think a lot of people have high expectations for the day to be perfect but the most important part of the day is the marriage vow. The Lord had brought us together and all our friends and family were there to support and celebrate with us, which was all that mattered. In the end, we were both there promising to love each other for the rest of our lives.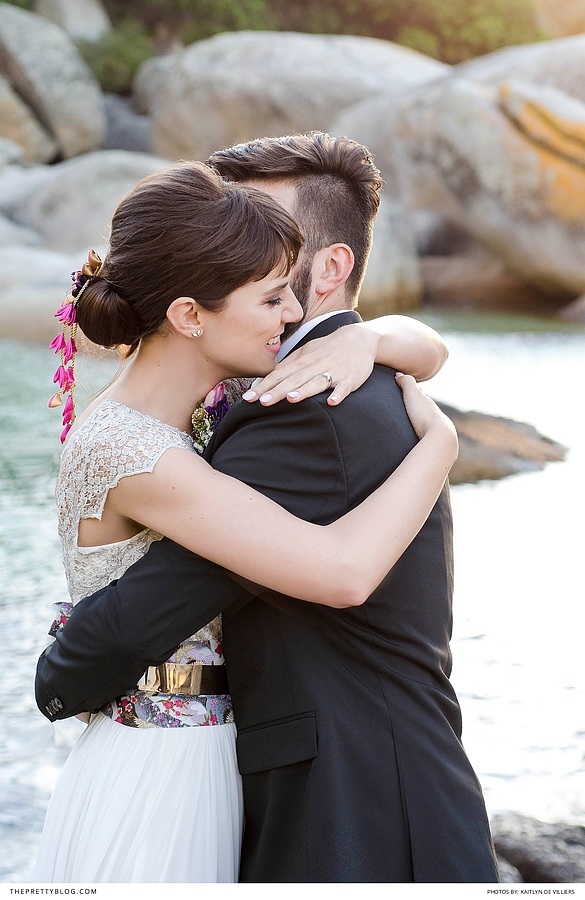 The Dress
Being a designer and producing dresses for my business, you'd think that I would have planned my wedding dress months in advance but all I had to go on was one meter of beautifully beaded, scalloped lace that I had bought six months before my wedding. Running a business keeps me incredibly busy and about a month before my wedding I realised that time was ticking and I was quickly running out of it. I turned my focus from designing for the business to designing and making dresses for my mom and three bridesmaids.
Two weeks before the wedding I still had not started my own dress, which completely shocked my friends and family, but I remained calm as I knew exactly what I wanted. I approached my wedding dress the same way I approached my business – I look for that unique dress that embodies simplicity, timeless elegance, style and comfort. About a week before my wedding, after finalising my pattern, I finally cut the beautiful scalloped lace I had been treasuring for so many months, into a cap-sleeved bodice and beautiful V-back neckline. The under-layer was fashioned from a beautiful ivory silk satin and for the skirt I used mesh. I love using mesh because it's soft, flow-y and fantastically comfortable. To echo the Japanese theme, I decided to make an obi belt from an intricate Japanese printed cotton that I had sourced previously.
I love what I do and I think it was the most wonderful experience being the designer and bride – it gave me an inside view of what it's like to be on the other side.
Tips
The Planning Process
Planning a wedding is not as difficult as it seems, when you work with the right people. We were super blessed to have worked with a group of talented professionals. The efficiency of the wedding co-ordination team at the 12 Apostles, when combined with our choice of awesome suppliers, meant we never had a moment of doubt or panic leading up to our big day. I think the most important part of a wedding should be the research – finding the right suppliers, people who understand your vision and who are 100% committed to making your day as special as you dreamed it to be.
The Budget
Researching suppliers also helped us to stick to the budget. Checking quotes from as many different suppliers was key for us – not to go for the cheapest necessarily, but to find people who will help you achieve your goal for a fair price.
We also decided to hire the immensely talented Martinus Van Tee (a Caricaturist), who not only provided hours of entertainment with his quirky and fascinating artworks but the guests were able to take their portraits home with them as a keepsake.
The D.I.Y
We did D.I.Y where we could, which helped us cut a lot of unnecessary costs. We decided to email our save the dates in order to cut costs on printing and asked all of the invited guest to provisionally RSVP on the save the date, so we only sent out hard copy invites to guests we knew were planning to attend. This also really helped with cost estimates when speaking to vendors. We made all of our own stationary: invitations, menus, ceremony programmes and seating plan. We also made little bento boxes, filled with love heart sweets, which not only echoed our oriental theme but doubled up as name card holders and party favors.
One Last Detail
Being so highly inspired by Japanese fashion and Geisha culture, there was one element I knew I wanted to include, months before my wedding day – a Kanzashi. This beautifully ornate hair clip was often worn by Maiko (Geishas in training) and Geishas in Japan. Because of it's scarcity in South Africa, I knew I would need to plan and source it far in advance. After a few days spent on Google, I was overjoyed when I finally come across Wonderful Kanzashi on Etsy, the online retailer for everything craft related.
Fortunately there was a wide selection of Kanzashi available and they even offered to make bespoke pieces. I chose to have one created in a style and colour palette which suited my wedding scheme – magenta, purple and gold. I knew it was a bit of a risk, what with the postal strikes and Wonderful Kanzashi being based so far away, but I placed my order anyway. I checked my post box every day for seven months, for that highly anticipated parcel collection slip. About a month before our wedding, my package still hadn't arrived. It was around this time that I started to become a bit despondent, so I had stopped checking the post box. Just as I came to terms with the fact that it had probably been lost – a week before my wedding – my mom let me know that there was a slip for me in our post box! Bursting with excitement I went to collect my beautifully handmade Kanzashi, even more stunning in real life.