Chris and Emily's deep connection was obvious from the first moment we saw their photos and we totally fell in love too. Their kind words about each other, their easygoing nature when it came to rough weather on their wedding day and the beautiful backyard celebration they'd planned, tied together perfectly. We loved the pops of maroon and her bridesmaids' fun dresses!
Our Story
We met in college and were dating other people for a few years. During this time, we became super close. So much so that, when we found ourselves single in our mid-20s after college, we thought, "Why not give it a shot?" About five years later, Chris proposed in the middle of winter while on a walk with our dog. In the nature reserve we were walking through, there was a very large tree in the middle of a field. Chris suggested we take a family photo in front of it with our dog. My sister happened to be with us and right before she snapped the photo, Chris got down on one knee! He definitely got the element of surprise and we have very fun photos of that special moment.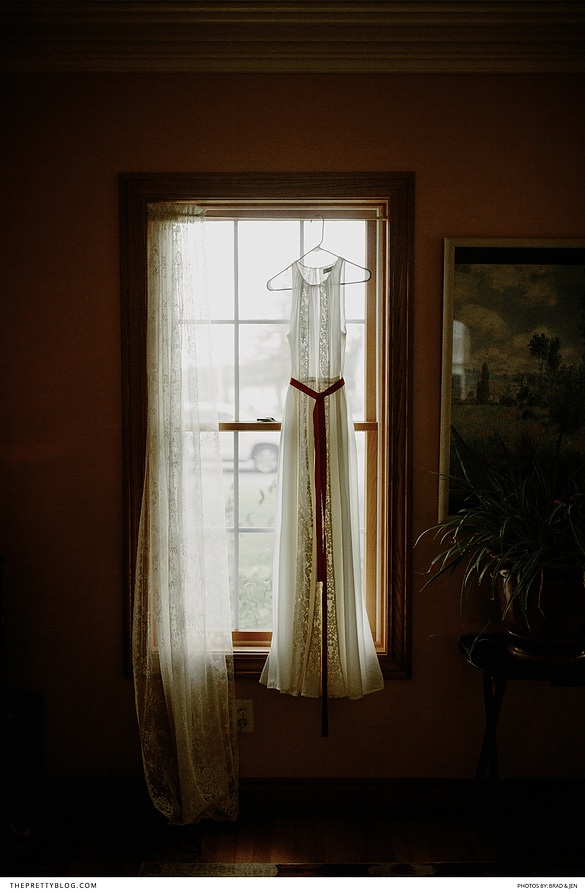 Our Style
We knew we wanted it to be pretty laid back and have elements of us throughout the day. When we settled on my parents' backyard as a venue, it all kind of all fell into place. We both have strong relationships with our large families and have had several elder members pass away in recent years. Having the photos of our deceased loved ones on the tree we said our vows under, was a symbolic element of the ceremony that was very special to us. When it came to the reception, we knew we wanted it to feel like a backyard party – with a fire pit, yard games and all. Despite the questionable weather that day, we were still able to pull it off with tons of help from our family and friends. The food was also a big part of our day and we decided on a food truck for several reasons. It was the most efficient way to cater, given that the event was in a backyard and we also wanted to make sure we provided local, plant-based options for our guests. It was super fun being able to walk right up to the truck from the tent and get a root beer float for dessert! We also asked loved ones on both sides to bring "family recipes" for a potluck dessert table, rather than have a cake.
What do you love most about each other?
Her
What I love most about Chris is that he teaches me more about myself when I'm with him. He brings out the best side of me in so many ways. We have had some growing pains throughout our relationship, like any couple, but it always seems that, as we move through them, we uncover a deeper layer of love for each other. Although he is my partner in life now, first and foremost he is my closest, most genuine friend. He knows me inside and out, better than anyone and yet we still have so much more to learn about each other. I love that I know him so well and yet, I hardly know him at all.
Him
What I love most about Emily is not that she has so many qualities that make someone worth loving, although I love that too, of course, but she is kind, trustworthy, caring and smart. What I love most about her is the feeling she gives me. The feeling I get when I look into her smiling eyes and I can tell she loves me for who I am. In that moment, it feels as though any anxieties I may have, melt away and I'm at peace. I guess it can be compared to that "love at first sight" feeling people get when they meet for the first time – when something clicks and you have such chemistry with one another. With her, I get that feeling over and over again.
Did anything unexpected happen on the day?
The biggest thing was probably not knowing what the weather would be like and making sure everything was "weatherised". Planning an outdoor wedding in late August, we knew we ran the risk of having questionable conditions on the day. There ended up being pretty torrential storms throughout that week and on the day, so we were working with family and friends to find smaller tents to cover things that were going to be outside our reception tent (like the yard games and dessert table etc). It all worked out beautifully though. Tornados did touch down in some areas around us – but fortunately things stayed pretty calm where we were and we ended up having beautiful weather in the evening!
Tips for planning a wedding
It's something that's so much easier to say after the wedding is over – but don't let it all overwhelm you! Try to stay in the moment throughout the whole process because it will be over before you know it. I think prioritizing what is really important to you for that day is a good start when planning. For us, it was having our whole family and closest friends there to share in the moment with us, and making sure the ceremony and celebration reflected who we were and what we loved. We sacrificed on certain things that might've made planning easier and opted to do a lot of DIY instead. In some ways, this created more work but in the end it was exactly what we wanted. One element that was important to us was the photography. Our pictures are phenomenal and we will cherish them forever – major thanks to Brad + Jen!
Did you go on a honeymoon?
Yes, we took a short trip right after our wedding day. After helping clean up the backyard, we drove to a nearby cottage (that we found on Airbnb) in a secluded forested area near the Kal Haven trail in southwest Michigan. We stayed for a few days and it was wonderful to have that time to step back from everything and just be together. A few months later we were lucky enough to take a longer trip to Kauai, Hawaii, which was an amazing getaway that came right around the holidays. So, it was also a great time for us to reflect on the whole year and relax in paradise.