This striking scene drew inspiration from wabi-sabi – a tribute to the Japanese aesthetic of finding beauty in imperfection, authenticity and earthiness. The combination of earthy stoneware and a dark, powerful colour palette was simply stunning. We loved the contrast between hard, dried leaves against the soft, pink flowers and the golden touches which gave the table that air of sophistication. Always fans of unusual settings, this shoot captured everything we love about minimalist beauty with a gorgeous Boho dress and perfect marble cake.
We asked the creative team to tell us about what inspired them and how they went about creating such a unique setting.
The Inspiration
By embracing winter and its glorious colours and moods, we were inspired to work with a darker palette by focusing on earthy stoneware, cool fabrics and raw landscapes. We also incorporated wabi-sabi, paying tribute to the Japanese aesthetic of finding beauty in imperfection, authenticity and earthiness. By juxtaposing this idea of imperfection with soft touches of romance, we wanted to create a unique look and feel that brides could use in their upcoming wedding.
The Venue
The Modern Heirloom, the space where we chose to shoot, embraced various aspects of our theme. We felt that their uncomplicated approach to décor, with a raw and industrial look, would bring out the stark beauty of wabi-sabi in the floral designs and table settings. Elements on the table that we showcased using this imperfect perfection aesthetic were the familiar touches of marble, brass and earthenware.
Local talent
We wanted to include as many local South African designers for this shoot, so we approached two very talented ceramists to include their works in the shoot. Elsje Burger has a beautiful new range of black dinnerware that worked perfectly with our dark palette and is available for hire at upcoming weddings. We also asked Amor from Day Feels if we could incorporate her dreamy range of ceramics, which embodies the idea of wabi-sabi through the delicate imperfections in the lines of her pottery. Other elements we highlighted through imperfection, were the draped napkins, the plates that were slightly off balance and we included an array of rough textures and subtle hues from natural stones, metals and fabrics. We used pops of gold to add some warmth and a touch of elegance to the table setting.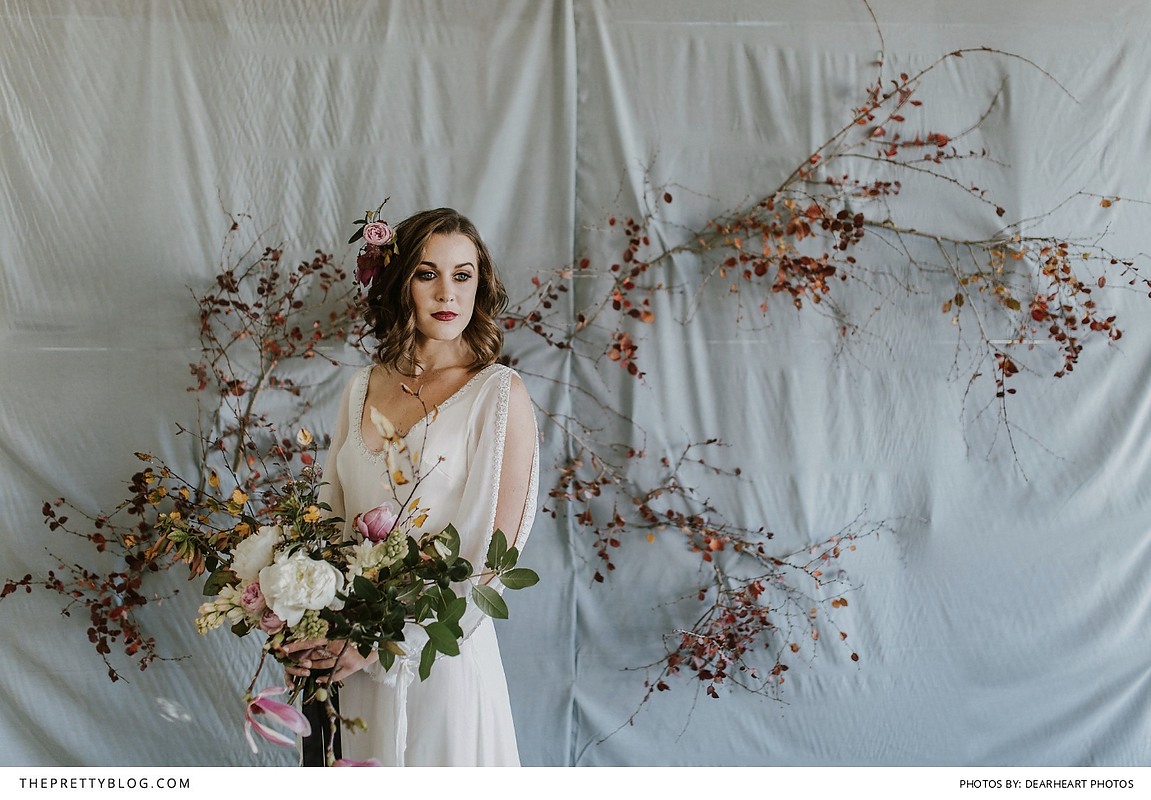 The Florals
The flowers complemented the look by adding warm, sultry tones that softened the look with elements of whimsy and romance. The style sought to balance the lush, romantic arrangements with more disciplined and simple arrangements of Ikebana (a Japanese art of flower arrangement) which inspired us to use wintery branches of tulip magnolia, which twist and fall in their own authentic and glorious way.
The Details
M Patisserie made a stunning marbled tier cake which mimicked the use of natural stones and the cooler wintery hues, with some flowers adding a splash of whimsy and repeating the romantic feeling. We used Elsje Burger's table as a stand, which added a touch of gold and Hello it's Matilda created some exquisite, hand-painted stationery to match our theme.