Winter sun is one of the best things about living in the Cape. One minute you're freezing and the next, the clouds part and your entire body heats up against the rays that shine through. That's exactly how we felt when we read Jason and Nicki's serendipitous story. Coupled with their elegant, yet simple and winter-inspired engagement shoot, the romance of it all just gave us tingles against the cold winter air!
Our Story
Jason is from South Africa and I'm from Myanmar (Burma) and we met in late 2011 in Daegu, South Korea. We had been living in South Korea for about six months when our paths crossed. Jason and I had moved to Korea in early 2011, from South Africa and Myanmar, for completely different purposes. Jason wanted a break and a change in lifestyle after completing his Architecture Degree at UCT and had decided to teach English at a private institute in a small town called Gumi. As for me, just when I thought I was getting a well-deserved break after completing Matric (a few years earlier than usual), I was given a scholarship to study abroad in South Korea. Somehow our stars aligned and we happened to be at the same place one evening. Jason tells me that, from the moment he laid his eyes on me, he knew I was the one. I, however, took a while to agree to go on a date with him! But I came around after a bit of cupid-work by his sister, who was visiting Jason at the time.
Shortly afterward, we became inseparable and spent the next four years living in Seoul. I was busy finishing my Food Science Degree while Jason was hard at work completing his Masters in Architecture at Seoul National University. During this time, Jason and I were faced with a lot of hardships, including the tragic passing of my mother. We supported each other throughout the highs and lows, which helped us mature as a couple and circumstances then led us to move to Cape Town after we received our degrees in South Korea. 
The Proposal
The proposal happened the weekend after Valentine's Day. Jason and I don't usually celebrate Valentine's Day, but this year, he'd told me that he wanted to take me on a date to a restaurant called Wolfgat in Paternoster. I'd initially quietly questioned why we would drive so far for a lunch date but I remembered that he'd showed it to me in the Visi magazine a few months earlier and thought that he just genuinely wanted to try it out. That Saturday, while getting ready for our date, he surprised me and told me that we were actually going to Paternoster for the weekend. I remembered my dad being a bit mischievous when I told him on the phone that Jason was taking me on a weekend getaway. Only afterwards did I realise that he had been acting like that because he'd already known that Jason was planning to propose to me. Jason had asked for my dad's blessing while we were visiting Myanmar some months before!
The lunch date at Wolfgat was very impressive. Kobus, the chef, creates seasonal tasting menus with nine or ten courses over a three hour seating. As much as I was enjoying the lunch, I'm the type of woman who chooses French fries over salad, so I kept asking that Jason to take me to get some fries because I was still hungry. Poor Jason! For a brief moment, though, he managed to distract me by pointing to a wedding that was taking place on the beach below the restaurant. While we were watching the wedding, Jason got down on one knee and asked me to marry him!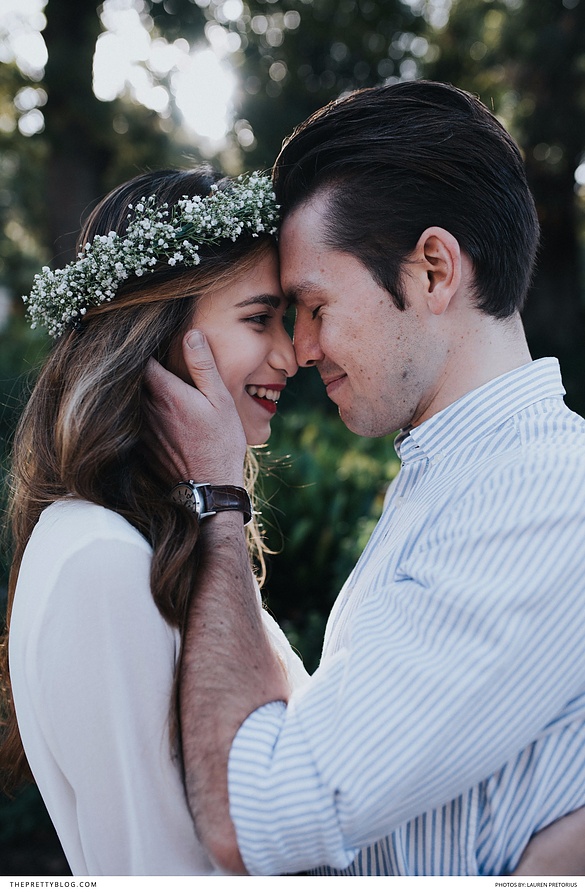 Our favourite qualities
Nicki is a stunning woman with unbelievable depth of character. She is kind, caring and loving, which makes me feel special and joyful each and every day. Her courage and integrity are qualities that continue to inspire and fill me up with confidence. While maintaining rare levels of conscientiousness, Nicki drives forward in life with passion and it is a delight to be on this journey, together with her! – Jason
What I love the most about Jason is that he believes in me and is very supportive of me. He encourages me and pushes me to my limits and I thank him for that. He is also very hard-working and ambitious, which are the exact qualities that I want in the man I am going to spend the rest of my life with. He makes me feel safe and comfortable with his love and care and, ultimately, he is my best friend. – Nicki
The Shoot
The shoot took place at the Groot Constantia Wine Farms. When Jason brought me to visit South Africa in 2013, we visited Groot Constantia and I absolutely fell in love with the place. We love the Cape Dutch architecture of the buildings and the beautiful mountains surrounding it. We wanted our photos to look beautiful but also clean and simple, while highlighting the spark between us.
Unexpected Weather
The week we had chosen to do our engagement shoot was supposed to be very warm but the temperature suddenly dropped on the day and we were freezing cold! Fortunately Lauren, our very talented photographer, made sure we were embracing each other enough to keep warm…
Save