Planning a wedding is a massive undertaking – planning a wedding from half way across the world, is a whole other story! That's what we loved about this incredible Dutch Feast – the magnificent floral details, handmade dresses and fiery touches throughout. Carla and Klaus really managed to pull off an incredible celebration of the great Dutch Masters – with some help from mom, of course!
Our Story
Klaus and I are two of the most digital people we know – so, of course, we met on Tinder and we went on a coffee date the very next day. After that first date I got in my car and watched him walk away and did a little happy dance in my seat. That is until he turned around and walked toward me again because he was so dazed, he had forgotten where he'd parked his car! I went home and knew I was going to marry this guy.
Klaus proposed two years later on Christmas Eve on my family's farm in Mpumalanga. Surrounded by my family and my grandparents, it was honestly one of the most special moments of my life. I was completely surprised and I might have made a little squeaking noise (we have it on video thanks to my sister)! Klaus proposed with a beautiful grey diamond – I'm a jeweller and he's worked in the diamond industry, so neither of us are big fans of sparkly white diamonds. The beautiful colours and interesting stories of the other coloured diamonds interest us way more.
We were headed off on a three week holiday to Australia on Boxing Day and I couldn't wait to have that gorgeous stone on my finger. Luckily my cousin is also a jeweller and his studio is on the family farm. So, on Christmas Day, I went over and made myself a little silver ring for myself in the 40C Lowveld heat – with everyone, from my four year old cousin to my fiancé, looking over my shoulder! This was so that I'd have a ring on my finger I met Klaus' family in Australia a few days later and when we moved there two months later.
Our Style
I'm from a family of creatives. My dad is an architect, my sister is a fine artist and my mom has a successful business creating fabric designs. We often visited Europe as a family and loved going to the different museums. The Rijksmuseum with its rich collection of Dutch Masters was the most inspirational and when I ended up studying in Amsterdam for six months, I frequented the museum – my Masters Degree in Jewellery is based on my findings there. So it was a no brainer when we started planning the wedding that it was to be a Dutch Golden Age Feast.
The first part was getting the tablecloths printed. There were 14 of them, each three meters long. My mom meticulously searched and until she found the perfect print. These were then digitally printed on the most incredible, heavy, Polish linen. She produced pillow covers to put in the garden for people to lounge on while having their sundowners and canapés. We always knew that we wanted the tables decked out in Delft tableware so when I contacted Judy, from The Delicate Nature, she really helped our dreams come true. She sourced such beautiful Delft serving dishes and we put flower arrangements everywhere. She also did a lot of research and brought the most incredible Dutch Masters floral arrangements to life. She imported hydrangeas from Colombia, scented garden roses from Kenya, Astrantias from Europe and locally she had a lovely couple who supplied her with poppy pods and Nigella seedpods, as well as artichoke and Elderflower blooms. My mother created linen napkins with Delft patterns and our monogram embroidered on it. And for me, arranging this wedding while in Australia, it was the combination of these two women and the gorgeous Juria, from Langverwagt, who made it all possible.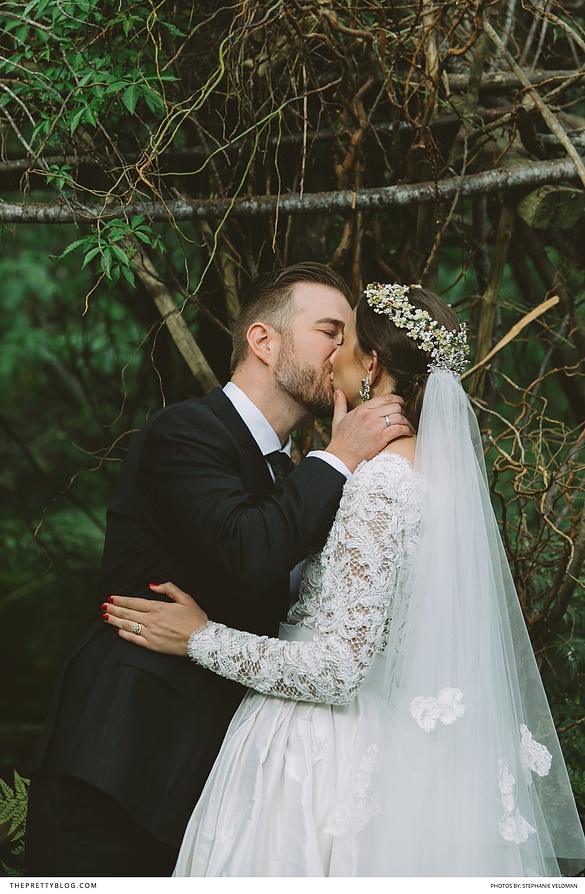 What do you love most about each other?
Him
Carla is beautiful and she has an amazing heart with a huge drive, which sees her passionately push the boundaries as a jewellery designer. Watching her go is an inspiration. She's compassionate and very loving and I cannot wait to spend the rest of my life with her.
Her
Klaus is an incredible and generous human being. He has the biggest heart – his first thought is always about everyone else, not about himself. He is an explorer, constantly reading and searching, finding new things. He is the most supportive partner and I'm still surprised by his level of emotional intelligence. In short, I can't think of a better person to spend the rest of my life with and to help raise our children.
The Dress
My mother made my dress – I don't think it gets more special than that. In fact, she and her team (Sammy and Nadia) created the dress of my dreams, as well as all the bridesmaids' and flower girls' dresses. I've always known exactly what I wanted in terms of what I wear. So, it was no surprise to my mom, when I walked into the first fabric store she took me to, picked the lace I liked, held it up to to see if it matched my complexion and walked to the counter to pay for it. I could see the slight disappointment in my mom's face that she couldn't spend hours dreaming in the fabric shop, like she's done since she was a little girl.
Luckily she had free reign with the style – the only requirement I had was that it had to have pockets. My mom also managed to talk me into wearing a veil, which I was very against at the beginning, but when I saw the incredible veil lying on her work table, I was sold!
The bridesmaids' dresses were my favourite and my sister, as Maid of Honour, sat for weeks embroidering and embellishing her own dress, as well as my veil. The flower girl dresses were printed on raw silk with the same theme of prints we used for the rest of the wedding. We only really started on any of the real dressmaking when I arrived in Cape Town four weeks before the wedding. So there was no time to be wasted and the moment I tried the full dress on for the first time, I knew my dream had come true.
Any tips for planning a wedding?
The first thing I booked was the photographer because photos are very important to me and I found Stephanie by recommendation from two different friends. We're so happy with her incredibly talented work. Our wedding was captured in a way we can relive it every time we look at the pictures. The venue is also very important and Langverwagt was very special to us because my mom had found it months before we were even engaged and said, "That is where you are going to get married." Underneath the beautiful Church of Trees is where we said our vows and the reception was held in their centuries-old wine cellar. The staff and owners are so helpful and really made for a completely seamless experience.
Just enjoy everything on the day and take it all in. The moment doesn't last forever but if you savour it, you'll be able to relive it so much better later.
Did you go on honeymoon? If so, please tell us about it.
After a few last minute details (like booking the flights to Mauritius the Friday before the wedding!), we managed to reach Long Beach Resort on the Monday morning. We had landed in paradise – it was just such an incredible experience! We were treated like royalty and celebrated both our birthdays while on honeymoon,spending our time snorkelling and parasailing. We explored the island of Mauritius, met lots of incredible people and will definitely be going back!
Save
Save
Save
Save