Isn't it just wonderful when everything falls into place and the day seems effortless and magical? That's exactly what we loved about this inspirational day! From the watercolour bridesmaids' dresses to the romantic sunset and those gorgeous florals…be sure to have a close look at their beautiful tablescape! We asked the creatives to tell us more about the inspiration behind it all.
The Inspiration
We planned this day because we are a group of utterly hopeless romantics who want any excuse to create beauty! Claude Monet was a great inspiration for this day and as we listened to L'Hymne à l'amour by Édith Piaf, with a glass of Whispering Angel Rosé in hand, we browsed images of beautiful women walking in fields with flowing dresses. It was in this moment that we knew we were on to something special. After some research and sourcing we found beautiful art pieces that inspired the colour palette of the shoot: the idea was to create a feast for the eyes, a mixture of beautiful romantic inspiration, a tribute to nature with a classic touch. The current movement in wedding trends is modern, clean and crisp and we are excited to see spring bring a burst of warmth and colour, with a touch of elegance. This shoot shows romance in an ethereal yet powerful way, with delicate textures of tulle and warm soft light. The movement of the dresses against the movement of the golden grass was the graceful feeling we envisioned.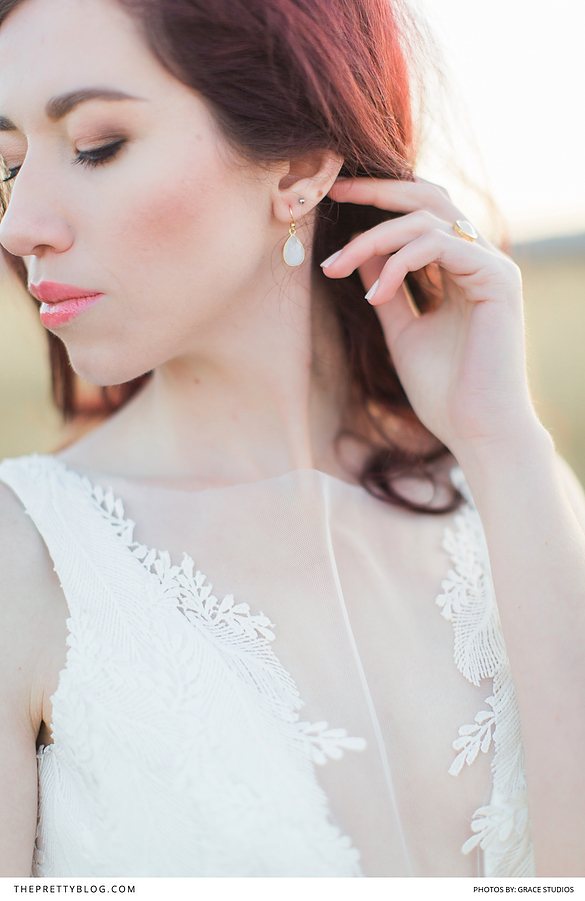 The Details
The Cowshed was the perfect venue for the inspiration behind our shoot. We wanted a natural space with vastness and golden hues to compliment our colour palette and allow a backdrop for it to pop. It's a fully functional farm filled with history and fields of beautiful grass on one end with a beautiful wedding venue of clean crisp spaces at the other, so our options were endless and we worked with the natural lighting throughout the day, making the most of each space and what it had to offer.
The florals and styling are all inspired by individual pieces of art. With the excitement of spring in the air, a bouquet and centrepiece that is lush, romantic and soft, was created. We worked with shades of lilac, violet, blush pinks and baby blue tones to create this look. We paired macaroons to the flowers as we truly feel there is nothing more romantically delicious than a fresh macaroon.
The Details
We chose to use less decor and focused on the finer details within the pieces we used. Our goal was to find a balance between opulence and minimalism by making a statement without creating clutter, whilst also incorporating some of the elements from the farm. A table draped in soft flowing material with a burst of beautiful soft romantic florals down to the gold cutlery tied with raw silk ribbon speaks pure romance and the pastel blue plates tie in so beautifully with the watercolor theme. All topped off with beautiful glasses filled with pink champagne.
Choosing your dress is an exciting part of planning your wedding. The dresses we chose from White Lily Bridal cater for an array of different body shapes, personalities, trends and styles and these looks show how finding the right dress for you is so important. We want to inspire women to be proud of the body they have and work with it by finding a dress that suites each element of who they are, inside and out. We love the variety from the movement of the sleek Dekota and Frenchy georgette dresses, with feather lace detailing and respectively oyster-hued, bustier bodice to the softness of the blush-lined Blossom tulle dress ideal for the romantic bride with a floaty skirt and delicately draped bodice.
The beautiful bridesmaids dresses we chose from Lola Wilde are feminine and playful with graceful movement and interesting details. They complimented each bridal look and fit perfectly into our romantic watercolour theme. The romance and softness of the ballet inspired tulle skirts are the perfect final touch to the look!
We also paired subtle, elegant and unique pieces of jewellery from the Katy Valentine Collection which matched our theme and color palette perfectly. For the stationery, we asked Lia, from Tique Design, to create a set that had soft watercolour patterns with a modern yet feminine font. Lia added hints of gold to compliment the cutlery choice.
Tips to achieve a similar look
Choose a venue that hosts diversity with clean spaces and beautiful open scenery. Go for soft draping tablecloths and romantic statement flowers tied with flowing ribbon. Replace the usual pieces with beautiful and subtle pastel-coloured plates and gold cutlery. Use classically shaped wine glasses to add a more romantic touch.
Choose a soft, flowing dress that has movement with bridesmaids dresses that compliment the color palette you chose. Importantly, choose a photographer with a softer style, who will be able to capture all the elements of your beautiful day.
For me, romance is about running away on a beautiful adventure, filled with love, laughter and all things soft and beautiful. The focus is on the intimate moments, special bonds and all the beautiful details. Choose a photographer whose style compliments this, as it's paramount to getting the kind of images you want. – Grace Studios, photographer