We fell in love with this beautiful, homey wedding from the minute we saw the colour scheme and rustic romance. At the heart of this celebration was the love the couple had for each other and their desire to share the day with their closest friends and family, portrayed through all the handmade elements they incorporated. We loved the bride's easygoing attitude towards the day's details and their sweet love story.
Their Story
We met one December holiday in Stilbaai. We were visiting friends one night and he opened the door for us. Never having met before, I said a quick hello as I walked in, though he never greeted back (his story being that he couldn't even get a word out). After he accidentally knocked his drink over, missing me by a few millimetres, we started talking (his version of the story also being that later that night, he got up from the table and as he returned, my friend and I had strategically exchanged seats). We did exchange numbers though and kept in contact. We went on our first date when we returned from our holidays, which lead to many more and a few months later he asked me out.
The Proposal
We dated for three years and were heading off on another December holiday in Stilbaai, first visiting his parents who stay in a little Overberg village about 10km from Gansbaai. One morning we had to drive into town to get a few essentials for the house and on the way we stopped every now and then to take pictures – taking in the beautiful surroundings.
Jan-Louis was very quiet the whole way and as we got to town he walked into the shop, got the milk and nothing else on the list. We were off again – him telling me that we can get the rest of the things later. Confused, I got back in the car and we drove back home. On the way back, he took a different road and when I asked him where we were going, he said he that wanted to pick a Protea (my favourite flower) for me before we went back home.
We stopped on the side of the road and walked into a field of wild proteas. I followed him, until he stopped and said that he had something small for me. He went down on one knee and took out a beautiful, antique, hand-painted box with the ring inside and asked me to marry him. I obviously said yes! We celebrated on the spot with champagne. It was a happy moment – one I will always remember.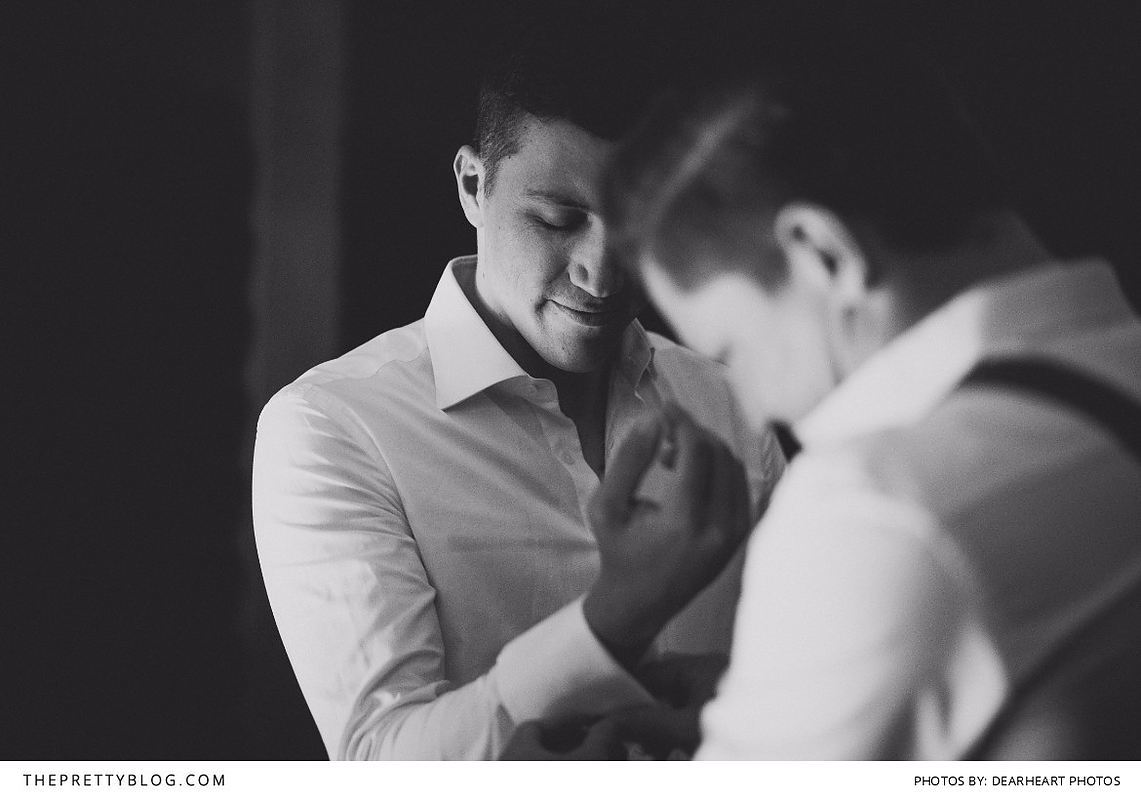 The Style
We wanted the day to be a celebration with the most important people in our lives – family and friends. We were incredibly happy to have them all there to celebrate the day with us. We wanted an informal wedding, with a relaxed atmosphere and for our wedding guests to enjoy themselves and to feel comfortable. We decided to hold the wedding on my uncle's wine farm, Montpellier, in Tulbagh. I have always been fascinated with the unique beauty and creative atmosphere that the farm holds. The reception was held in a cozy barn in the woods, with big glass doors which opened up into the forest, with a beautiful garden surrounding us. There was a wooden dance floor, under a marquee tent decorated with fairy lights, which connected to the barn and gave a breathtaking view of the Winterhoek Mountains.
We loved the idea of having an outdoor wedding and this venue lent itself to this perfectly. We were surrounded by nature, but could still experience the comfort and coziness of the barn, with crackling fires outside and blankets to keep everyone warm.
The tables in the reception area were all different, picked by hand and carefully arranged in the very intimate space – contributing to the cozy atmosphere we wanted to create. We also had beautiful Persian carpets on the cement floors and the canapés were served under a huge tree in the forrest. Pizza slices were served fresh from the pizza oven in the garden and we served roosterkoek (bread made on a fire) with cheese for the pre-drinks. I love cheese, so we decided on having a cheese cake, created using actual cheese wedges. My mother did an excellent job decorating the "cake" with flowers and fruit. Our wedding party could wear what they wanted – we just gave them a few guidelines in terms of sticking to the autumn colour scheme.
The Details
We decided on the most important elements for us – the atmosphere, food, florals, photographer and the fact that the venue should not have a closing time! It really helped that the wedding fell over a long weekend, because most of our guests took a mini holiday to attend the wedding and everyone was in a very relaxed mood, happy to be there. Our photographer, Lindsay from Dearheart Photography, was the perfect choice for us. We loved her style of photography and the way she captured small, fleeting moments, which would otherwise have been lost in the moment. She and Tabitha (her second shooter) were relaxed and wonderful to have around us on our special day.
Most Memorable Moments
Groom
The moment I saw Tillie entering the chapel – she looked beautiful and very natural. This was by far the most memorable moment for me!
Bride
The fact that we had a weekend of celebration with family and friends was most memorable for me. The day flies by so quickly, so it was nice to have a whole weekend to look back on.
The speeches were also a highlight for me. They were short and sincere and everyone who spoke had a very genuine message, which really touched my heart. The atmosphere was incredible, everyone was relaxed and happy and the reception lasted until 6am the next morning! We had the most incredible group of people by our side, celebrating until the very last minute. Some of our guests didn't sleep a wink as they were heading home on an early flight the next morning.
The Unexpected
My dad had a small surprise for me – as soon the ceremony was over and guests were walking out of the chapel, he played Beethoven's 9th Symphony, which is based on a poem "Ode an die Freude" (meaning Ode to Joy). I knew what this piece meant to him, so it was a very special moment for me.
Many of our guests arrived the day before the wedding and not having seen each other for a while, I got carried away with catching up. I completely forgot to write my speech on to a card. I had to speak using notes on my cellphone, which wasn't ideal, but I still was happy to get a chance to thank the people I love.
The Dress
My dress was designed by White Lilly Bridal. I knew from the moment I met up with Jacelyn that she would be able to create something I would love. I did not have an exact picture in mind, but knew that I wanted something with a bohemian feel to it. I wanted something simple and elegant, soft and flow-y, with delicate lace. I loved the pure silk and soft, French lace she used in the design and I enjoyed every minute of the dress-making experience – having met an incredibly inspiring, creative human being along the way.
Tips
I don't believe it is necessary to stick to any "supposed-to's" – it is your wedding day and I think that the couple should change things up as they see fit. You definitely don't have to tick all the boxes!
My mother was an incredible help with all the plans leading up to and including our wedding day . She was the best wedding planner – we have a similar taste so which helped a lot when envisioning the day. She is an incredibly creative and organised person (which is a rare combination to have), so the entire process was a pleasure to put together with her. We had a lot of fun planning the big day together – it helped to have someone on board when managing all the admin that goes into organising such a big event. We had a file which basically kept all the admin in order.
The Budget & DIY
Doing a lot of things ourselves really helped keep the budget in check. The flowers were mostly fynbos, picked from the field close to the the farm where my husband's parents stay. My mother-in-law and other family members helped to pick the flowers and my sister-in-law transported the flowers to the venue on the back of a bakkie. Two packets of cable ties later, the flowers arrived safely in Tulbagh! My mother and Marica arranged the flowers, including my flower crown and the bouquet – all of which I adored.
I designed all the collateral for the wedding, including the invites and save the dates. I also illustrated and framed a mini portrait of each of my bridesmaids, as a small gift to them. Friends helped us to collect beer bottles which we used on the tables, along with many of my mother's own beautiful vases she has collected over the years. We made blackboards which we wrote the seating plan and program on, in wooden frames. The vine wreaths we hung on the doors of the chapel were made by my mom and I, when I was very young, on my grandparents' farm in Kakamas. They also served as a beautiful memory of special times together. I loved the personal touches – everything had a story.