A magical, colourful forest feast – the perfect way to describe this fun wedding! We loved the absolute joy on the couple's faces as they enjoyed their special day. The rainbow hues and gypsy touches made Johanita and Wayne's celebration a Colour Burst explosion. And their honeymoon sounds like it had all the same amazing touches…
Our Story
Our story begins with a dorky office romance. It started off with a polite "Hi" and "Goodbye" between colleagues and quickly escalated to blushed faces and giggles. Maybe it was the way that Wayne built his data warehouse so brilliantly or the way I showed him how to create beautiful data graphics, but the spark was there and we could not help but to give in!
It's probably every girl's dream of a man on one knee on top of the Eiffel Tower overlooking one of the most romantic cities in the world. Every guy probably dreams of the girl just saying yes! After some serious ugly crying on my behalf (with Wayne starting to question whether it was a good or a bad cry), I blubbered "Obviously!". So, we both had our wishes and dreams come true that evening.
Our Style
I really think our wedding showcased our personalities perfectly. When Wayne saw the venue he immediately thought of me – being a bit of a wild child. I have always wanted to get married in the woods and then he found Die Woud. This is such an amazing venue and I loved that they served the buffet on the tables, which made it feel even more like a feast.
The wedding decor was a colourful gypsy theme with colourful flowers, mismatched plates, vintage brass floral vases, brass candelabra, colourful candles, a vintage van as the photo booth and a gypsy jazz band called Manouche who just added so much flare to the atmosphere.
I like to believe that we are a very colourful couple with colourful friends and a very colourful family and I wanted to showcase that through the wedding theme. I couldn't single out one or two colours for the wedding so I kind of chose them all! – Johanita, bride
My sister, mom and I sourced all the decor and most of the brass flower vases came from the Milnerton market that we scoured each Saturday with poor Wayne carrying all the bags (and the credit card!). The flowers were handpicked by my sister and myself and most of the arrangements were done by my sister, my mom and my beautiful bridesmaids. I made the macramé for the arch and my bridesmaids helped to make the macramé for the table decor. The wedding stationery was perfectly designed to suit our style and after my mom did a lot of ripping and dyeing as there were beautiful colourful napkins to further compliment the table setting.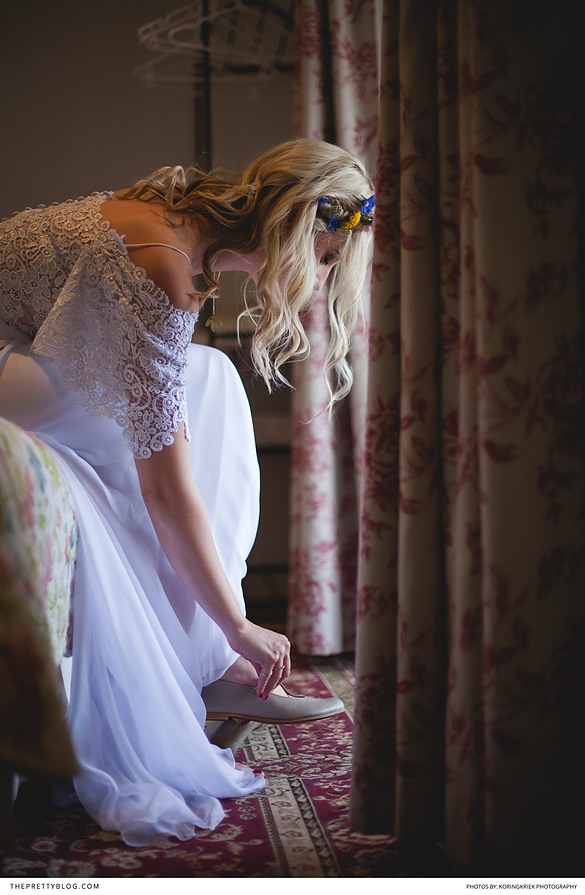 The Dress
My wedding dress was the product of trying on a few dresses, seeing which style suited my body type and then taking that style and making it my own. I had a wonderful designer who was honest with me regarding what would suit me best and I am quite thankful for that. I quite liked the idea of a two-piece dress and after she pinned a few pieces of material to show me a silhouette I knew that it was what I wanted. I really liked my off-the-shoulder lace sleeves. I did want to be comfortable in my dress and be able to dance easily and so I was happy to not have a train and too many layers but more of a free flowing dress.
What do you love most about each other?
Wayne's kind heart, eyes and smile are what immediately drew me to him from the first day that I met him. He is intelligent, funny and challenges me in a great way. He makes me more me than I knew possible, he is my person, my favourite ice cream flavour and my favourite brand of bubbles!
Johanita's perpetual belief in the innate goodness of humans and her childish innocence are what I really love about her. Sometimes I think she might be naïve, but actually she just has a really good heart. She pushes me to be more than I ever thought I could be and teaches me every day how to embrace and enjoy life to the fullest.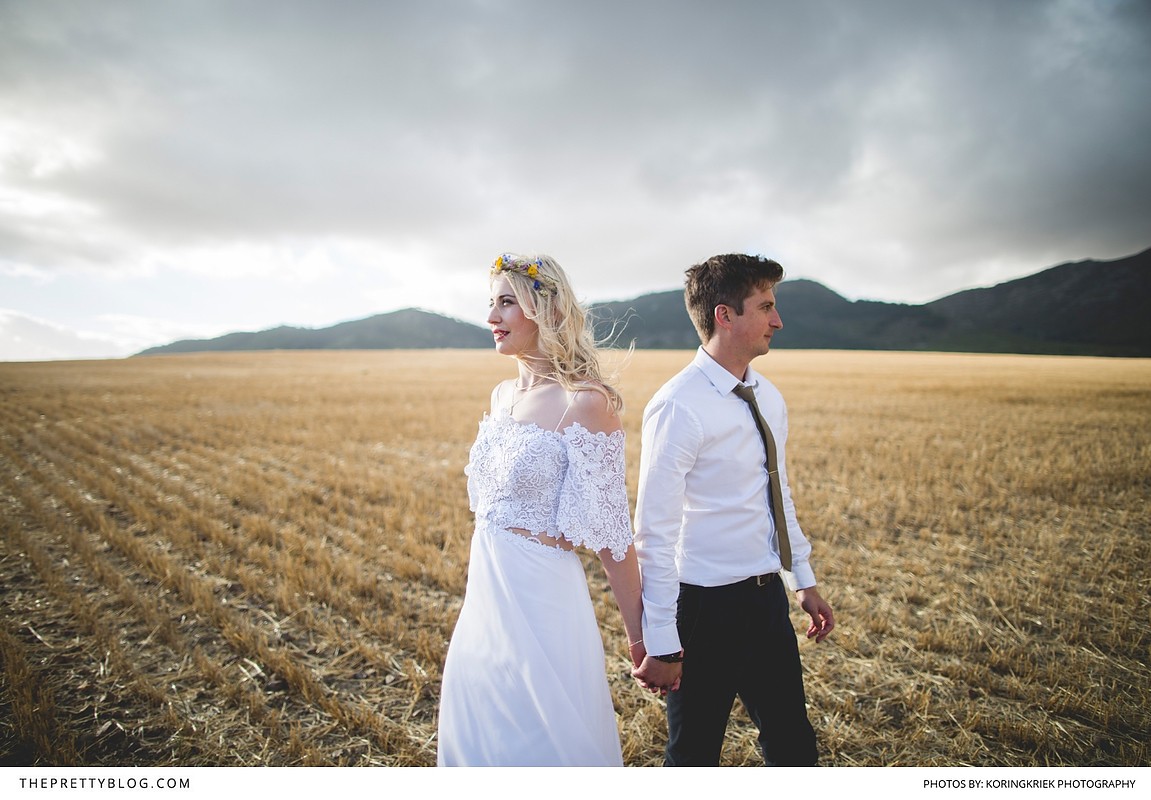 Tips for planning a wedding
Our photographers captured the spirit of our wedding day. Every photo shows just what a joyous day it was – filled with love, laughter and a whole lot of dancing! I think this is so important. Choose the photographer who is going to capture what you want your wedding to symbolise. Unfortunately your wedding day goes by so quickly but luckily you have your photos forever.
Regarding the budget, start by making a list of the most important things, then figure out what you should set aside and don't worry too much about the rest. Things like a venue and photographer you need to book well in advance but I ordered my wedding cake the Wednesday before the wedding and paid around R600 and it was still amazing.
Have a good MC so that, when things go wrong, he is able to cope with a change in plans. Try to have a bit of a schedule planned before the wedding. If you do, however, run a bit late or early just ignore that sneaky stress feeling that is trying to ruin your big day – most of the time your guests have no idea when things are supposed to happen.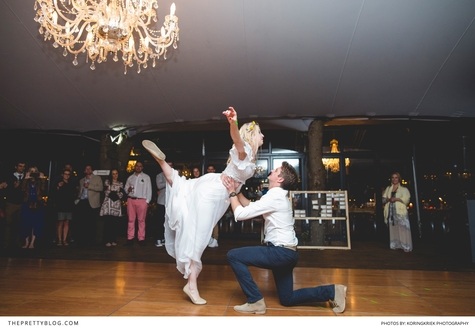 Our Honeymoon
My sister and her husband were so thoughtful and booked us into the Dockhouse Boutique Hotel in the Waterfront for the Sunday evening after our wedding. It was such a beautiful suite with a big bath, rose petals, MCC and a dessert platter. We embarked on an Italian trip the next day, deciding to explore the Tuscan region and Rome, to give us enough time to soak in the culture.
We started our trip in Florence – we ate so much and walked all over the city. We also visited the magical castle town of San Gimignano. This was our favourite place to visit and was breathtaking and so romantic! Next, we stayed at a work colleague's father's farm close to Todi in Umbria. Our hosts, Guiseppe (Pepe as we called him) Nikki Bosini (who was born in Bloemfontein) welcomed us with true South African hospitality and showed us around their beautiful farm. The next day Pepe took us to see Todi, another beautiful gem, before we drove to Rome. Driving to Rome on the wrong side of the road was quite a rush and a bit stressful! We spent our last three days trying all the touristy things and soaking up the Roman culture. On our last night in Rome, Pepe and Nikki came to stay at their apartment in Rome and cooked for us. Then, at midnight, they decided to show us Rome again: they took us to a beautiful hill where we could admire the whole of Rome and its twinkling lights. What an ending to an amazing honeymoon spent with the best travel partner and love of my life!