This Greek Orthodox wedding was a stunning display of traditional beauty, packed full of little details unique to the couple. The couple planned every detail from Johannesburg and managed to pull off a flawless day by trusting their instincts and their vendors – always a good idea! Woodstock's Greek Orthodox church was the perfect backdrop to the pair's special day, with everything running smoothly…in the end!
Their Story
We met over 13 years ago during high school through friends. On our first date Greg wore a pair of slippers and I'll never forget how much he made me laugh that night. Three years, and a number of casual movie dates later, we decided to make our relationship official late one night on the steps of a pub in Johannesburg.
The Proposal
Interestingly, we found ourselves once again in a small Johannesburg pub on the night Greg proposed. It was our eight year anniversary in May 2014 and I thought a screening of Little Miss Sunshine and a burger would be the perfect, intimate way to celebrate. Greg had reluctantly agreed, as he knew that it was the night he was going to propose and wanted it to be perfect. We shared dessert and Greg slid a small lucky bean over to my side of the table. It was engraved with the words 'marry me'. I didn't realise he was proposing until I looked up at Greg, whose eyes were brimming tears. He was holding a box with the most beautiful engagement ring I have ever seen. Before I had even said yes, I grabbed the ring and ran outside to call my sisters and tell them the incredible news!
The Style
Our wedding was simple, elegant and sentimental. I had caught a very good friend's bouquet a month before we got engaged and made sure her beautiful preserved roses featured in our wedding – really spreading the love.
We are both so laid back and relaxed; we felt that the style and tone of our wedding really represented this. The setting was in the courtyard of a wine farm restaurant, the flowers and table settings were loosely arranged and our bouquets were organic and wild – in a very good way. Table seating lists were tied loosely to hanging wine bottles. We chose cream as our key colour because it's clean and peaceful. We also had splashes of copper, which brought life to the occasion.
Most Memorable Moments
Groom
It was the night before the wedding and my nerves got the better of me. I had laid in bed for quite a while, when my cousin Jaron knocked on my bedroom door. He came in and we chatted and eventually he told me that he had a gift for me from Tatiana. He was supposed to give it to me on the day of the wedding but couldn't wait. It was a watch, with a cute note telling me not to be late. It was just what I needed. Tatiana knows how obsessed I am with my watch collection and it was the perfect addition.
Another unforgettable moment was coming back to our beautiful suite at the Mount Nelson when Tats asked me what my moment of the day was. I told her it was when the church doors opened – which prevented me from passing out in the mid-summer Cape Town heat, during our ceremony. We laughed for hours!
Bride
Besides feeling absolutely overwhelmed with love and positivity, after receiving countless messages and calls from family and friends all over the world, I will never forget the quality time spent with 'my girls' the morning of the wedding. My bridesmaids, mother, mother in law and I ate pastries, drank champagne, listened to music and chatted while being made up to look like princesses. I have never felt so relaxed, focused and happy. Seeing Greg's teary face as I walked down the aisle is another moment I will never forget. It felt like there was no one else in the church but the two of us.
The Unexpected
According to Greek tradition, a bowl of uncooked rice needs to be handed to all in the congregation for a moment in the ceremony where the rice gets thrown at the couple. This rice was forgotten at our hotel! As my father and I were on our way to the church, we got a frantic call from my mother desperately asking us to stop (wedding dress and all) at a local store so we could run in and buy a bag of rice. No rice meant no ceremony. Luckily, a lovely Woodstock resident was kind enough to lend us a cup of rice so our wedding could continue.
The Dress
Before we were even engaged I had found a dress I thought would be perfect. I searched everywhere and my mother eventually found the exact dress at a small shop in the middle of nowhere. I tried it on, thinking I had found the dress and wondered what all the fuss around dress shopping was about. It looked terrible. It was completely unflattering and I didn't feel beautiful at all.
Then, a few months later, after numerous boutiques and stores I found my dress at Vonve Bridal. Everyone in the room was rendered speechless. The sample I tried on was one size too small. Not even the fact that I couldn't breathe stopped me from falling in love with my dress.
Tips
The Planning Process
We are Johannesburg based and managed to successfully plan our wedding in Cape Town with numerous emails and just one visit over a long weekend. The key is knowing what you want and having a clear vision. Having the right suppliers share this vision is a must and reduces your workload significantly. A number of décor suppliers were briefed and My Pretty Vintage responded with a mood board which completely matched what we had in mind. We made a few tweaks here and there in order for us to agree on a budget and ended up with what we considered a Pinterest-perfect wedding.
A photographer should never be an area to hold back on in terms of cost. These are the true memories you look back on and need to be captured according to your personalities and style. From the minute we met Lindsay we knew it was a perfect match!
Last piece of advice – go with your first instincts. When Greg and I first started talking about our wedding we mentioned Cape Town as a highly possible option but immediately dismissed the idea without fully exploring it. We then visited countless venues in Johannesburg and even explored a few in Durban when one night we decided to book tickets to Cape Town for a weekend of wine tasting and wedding venue hunting. It was the best decision we've ever made. While it was good to do thorough research, it caused unnecessary stress. It was always Cape Town!
The Budget
Being involved in the industry we knew how much printed wedding stationery could add to your budget. With the exchange rate dipping, paper prices went soaring. We chose to design our own Save The Dates and built a website which not only served as the invitation, but provided fun facts about our Greek Orthodox wedding. Because many of our guests were travelling from Johannesburg, we provided accommodation and flight information to make the trip as easy as possible for our guests.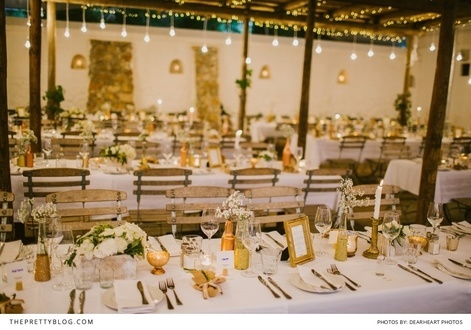 The D.I.Y
After much deliberation, my mother, sisters and I decided we that would make the guests' gifts. For the girls we made hessian bags filled with traditional Greek almonds, tied together with chord and a small white-washed wooden heart which could turn into a gorgeous necklace. The guys each got a cute Ouzo-filled bottle with a small evil eye attached to brown twine, which was worn as a fun bracelet. It was loads of fun for the girls to get together a few weeks before the wedding and unwind, while finishing off the gifts.