We've waited for ages to share this truly romantic, breathtaking wedding day inspiration! The pastel shades, unique touches and romantic air had us swooning from the start! We loved the screen made of origami birds, pink balloons and the bride's veil covered in cherry blossoms…take the time and just look at all those small details. We asked the creatives to tell us more about the inspiration.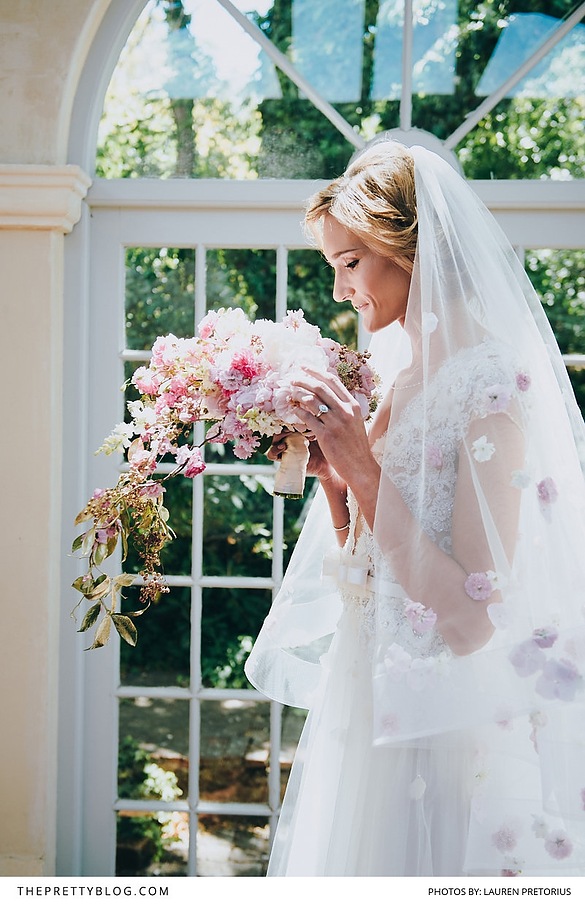 The Inspiration
Our day pays homage to the remembrance of a dreamy summer time wedding celebration amid cherry blossom trees and jasmine vine in full bloom. Both these floral muses are evocative symbols of love's fragility and beauty, yet tenacity. The spread represents the integration of western and eastern elements all beautifully styled to create looks that are aimed at a bride who wants to look feminine, beautiful and youthful on her wedding day.
The Elements
The three key elements of this shoot were the fashion, flowers and fine jewellery. Designer Stephen van Eeden believes that there is nothing more creative and powerful than simply creating instinctively from the heart. For this shoot, he drew inspiration from the old-world opulence and, as always, attention to detail was paramount. He juxtaposed simple A-line silhouettes with intricate beadwork, one-of-kind embroidery, with lace details, structured origami pleats in Silk Lamé Taffeta. All these elements are synonymous with Stephen's design aesthetic and the looks were figure-flattering, tailored to accentuate a woman's body. Subtle tones of blush, taupe, white and pearl were combined with the various finishes of the fabrics to create interest, depth, balance and above all a luxurious feel.
The Details
The flowers were inspired by the eastern influences featured in the shoot. Japan is known for its cherry blossoms and jasmine, so an ornamental cherry tree in our garden gave us the perfect opportunity to celebrate the beautiful aspect of Japanese heritage. We also incorporated the blossoms into a veil, which we covered in fresh blooms and petals, to give the idea that the bride was walking through a grove of cherry blossom trees and that the delicate blossoms were gently falling from the trees and onto her veil as she strolled.
In addition, we made use of a Japanese-inspired parasol and adorned it with blossoms that resembled a cascade of soft pink hues that were gently draped over the parasol. The bridal bouquet was soft and whimsical, with a slight cascade of jasmine and cherry blossoms to bring continuity to the styling. A sandalwood fan, onto which we attached Phalaenopsis orchids and some tassels, made for the perfect accessory on a balmy summer wedding day. For the final centre piece, we draped a gorgeous chaise-longue in soft grey, pink and white flowers and various foliage, on which our beautiful bride reclined during pre-drinks. With this shoot we wanted to showcase that flowers and fine jewellery really are the ultimate luxury accessories to beautiful bridal couture!
The Final Touches
Fine jewellery pieces by Uwe Koetter were used as the perfect match for the finely crafted couture wedding gowns. All the pieces we selected for the day were delicate, subtle and beautifully complimented our bride's ensembles, crafted from the most precious materials and gemstones, including Rose Gold, Sapphires and Topaz. Jewellery that is timeless and classic with intricate details, makes it both unconventional and modern.