We loved this bright and happy celebration of October colours. The stark, white background made the hues of different shades pop beautifully! We asked the team of creatives to tell us more about what inspired this look.
The Inspiration
After the long dry brown and grey season of winter, October always bursts forth with an array of fresh colour as gardens and countrysides spring back to life. There are few things as beautiful as the bright green foliage on deciduous trees and the first flushes of roses in the gardens that October brings.
Spring is synonymous with colour and colour with celebration, so colour your nuptials with bright and beautiful shades to celebrate the new season in your lives. When deciding on a colourful wedding, you don't have to stick to one palette, but you also don't need to go overboard and incorporate all the colours of the rainbow. Often, leaving just one colour out can make the rest of the palette pop.
Colour is food for the spirit – plus it's not addictive or fattening. – Isaac Mizrahi
Bright colours stand out in a white setting and using different shades can makes the palette more versatile and interesting, especially if you want to keep the tone not too formal. Bright colours are fun, so skip the tradition of a sit-down reception and go for quirky and interesting canapés and signature cocktails served on a gorgeous rooftop, so you can catch the sunset as it paints the sky before sinking into night.
The Elements
The shoot was done in a studio as it gave us more control over the lighting and we weren't subject to the elements that on-locations shoots can experience. A beautiful, clean white background was also vital to allow the colours to really pop. Colourful weddings often shout 'fun', so we brought in clear cocktail stools and a glass top cocktail table – the flowers could still be features but wouldn't overfill the table tops.
With a cocktail-style evening, why not consider a large floral feature or two – such as has been seen at Chelsea Flower Show the last couple of years – not only does this provide a fabulous photo opportunity, but it can also be a focal point for your ceremony.
Floral jewellery is also a wonderful way to bring colour into your day without wearing a colourful outfit. Fresh floral earrings, fascinators and neckpieces are all statements to be made for a bold and confident bride.
He found colours to paint her where the world had left her grey. – Atticus
Whilst a colourful wedding dress is awesome and different, with lots of colourful flower elements, we decided to keep the wedding gown and pantsuit quite neutral with clean lines and minimal detail.  This way the floral detailing in all its colour and texture would remain bold and fun, paired with bright lips and eyes for our on-trend bride.
Brush stroke cakes are the very latest in wedding cake trends and with a colourful palette, what could be more appropriate than stunning colour brush strokes all over a white cake to carry the theme through.
Finally, as the stationery is your guests' first peek into your special day, we looked to the latest trends for graphic design which are moving away from watercolour and botanical styling to bolder brighter colours and geometric patterns and shapes. Perfect to set the fun tone for our trendy couple!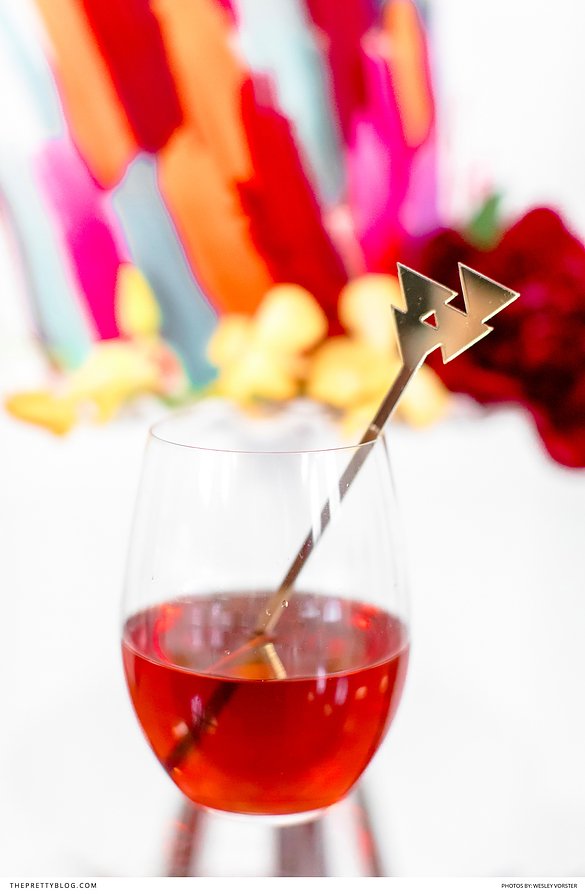 Tips to achieve a similar look
If you want a colourful wedding, then flowers, stationery and your cake are all wonderful ways to incorporate this if you are not brave enough to wear a colourful wedding dress.
Bright colours often work best when it concentrated in one tint with various shades. Rather than mixing up lots of colours, especially when it comes to flowers (which, in a single arrangement, can dilute the effect of the colour) – group flowers of the same colour together for a bolder effect. Neutral vases in white or black are best to let the colour really stand out, rather than bringing in another colour in your containers. Keep your venue lighting white if you are going for a colourful wedding – coloured lighting tends to override the colours on your tables completely.