This was simply a gorgeous combination of the couple's happy nature and true-blue Boho style. We loved the opulent white florals and magnificent flower crown, paired with bold make-up and nude-coloured lace dresses. The little surprises, like the fact that the bride wore a dress from the same boutique where she'd bought her own wedding dress a few years ago, made this such a special story. This stunning setting, paired with an even lovelier couple, made it bridal inspiration not to forget!
Their Story
Mvuzo and I met in January 2005, at one of the CPUT student residences. I had just moved to Cape Town to study and we hit it off instantly (love at first sight!). I remember we talked for hours outside my room about everything and we had so much in common – you know what they say, the rest is history.
What he likes most about her
Well, she's obviously quite beautiful but Alungile also has such a warm heart and an amazing ability to take care of all my needs. She has an amazing sense of style and the ability to make anything look good – beautiful inside and outside. She really makes me happy and she is always there for me and my family. Alungile is such a strong woman, who complements my humble approach to life!
What she likes most about him
Mvuzo is my best friend and the love of my life. I admire how supportive he is through the good and the bad. He's such a hopeless romantic, who is also very dependable. He is ambitious, has a great sense of humour and he loves family and the outdoors.
Inspiration from Illuminate Photography
I absolutely love photographs that fully embrace the beauty of nature, so this was the starting point for this shoot. South Africa has so much natural beauty to boast with, so we had plenty of options for locations. We decided to go with the forest, as the deep green of the pine trees made for the perfect backdrop to our concept. Mabel, the florist, took my vision and turned it into a reality with the beautiful cascading bouquet and flower crown.
I wanted to create a boho look with a twist – I am such an outdoor lover and I knew that I wanted to go with a very natural and outdoorsy feel. I love pictures of beautiful mountains or forest elopements and I'm also obsessed with the trend of going very neutral with the colour scheme – plenty of foliage is a must-have! If I got married today, that's the look I'd want to go for. What made it extra special, was the fact that I had photographed the couple's real wedding five years ago – it was one of my very first weddings.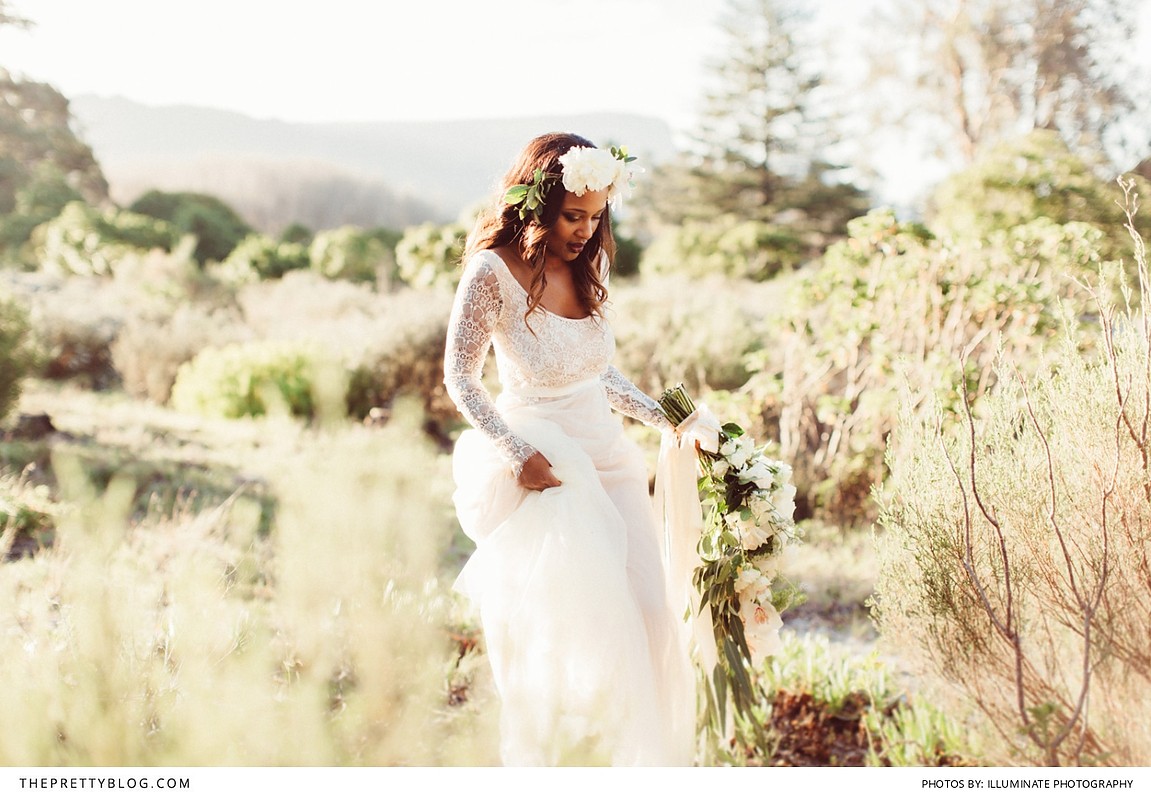 The Style
I had seen a bohemian dress from The Wedding Boutique on Instagram and knew immediately that I wanted to shoot it. I was so pleased to see that Alex had added some more items to her collection of boho lace dresses, all of which are so gorgeous and suited our look perfectly. We chose two nude-coloured dresses that I thought would be perfect for an elopement or outdoor forest wedding and we decided on mustard chinos and a waist coast for Mvuzo. Sometimes the groom can almost get lost in the photos, when all the attention is on the bride, and the coloured chinos help to balance things out. We wanted him to look just as relaxed as the bride and for his outfit to complement the neutrals of the bride's, but not to overpower it either. What a surprise it was, finding out that Alungile's own wedding dress, from her wedding five years ago, was also from the Wedding Boutique!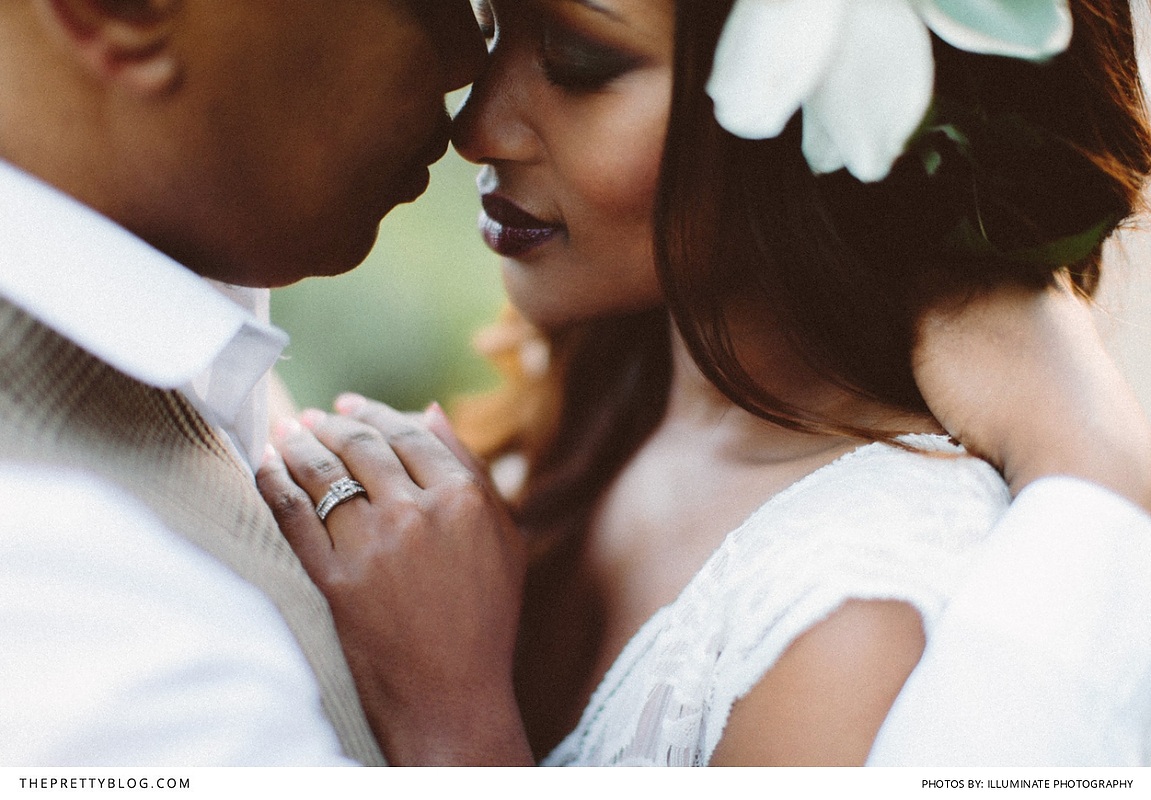 The Beauty
I really wanted to do a shoot in a neutral palette that would be very natural and dreamy, and because we'd gone neutral with the rest of the look, we thought we'd go a little darker with the make-up. Lindsey, from Makeup and Delight, created beautiful, loose waves that brought out the ombre in Alungile's hair, with dark, smokey eyes and a deep berry lip that accentuated her natural beauty so well. Lindsey is a true artist in everything she does!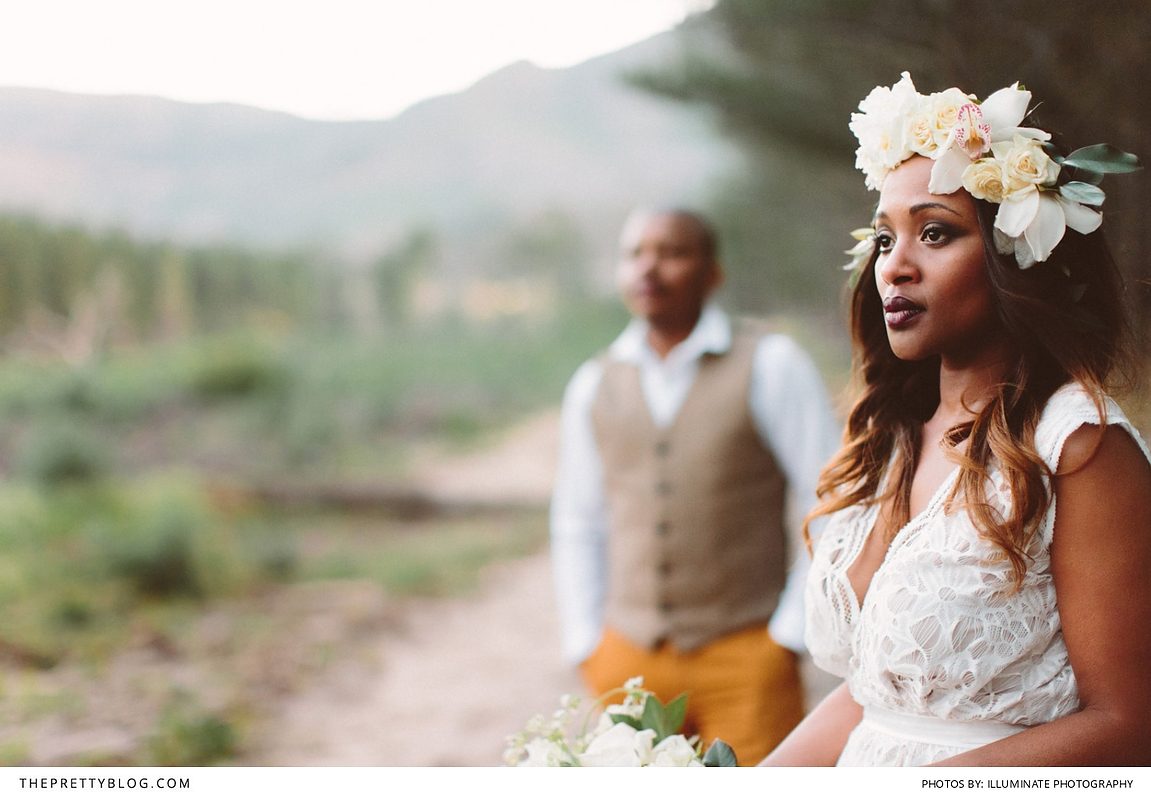 Love this look? Find these items in our shop: