This couple's sweet story stole our hearts and the classic, minimalist details really made for a picturesque wedding. The focus on natural elements and earthy palette really suited the beautiful wedding venue. We especially loved the bride's bouquet which brought a dramatic aspect to an otherwise understated day. Oh, and make sure to look out for the beautiful wedding cake!
Their Story
Allan
Born in Taichung, Taiwan, Mandy moved to South Africa in 1994 when she was 10 years old, after her dad came to South Africa for work. She quickly learnt English and adapted to her new home in Durban. She's always been an incredibly independent, strong-willed, creative and detail-oriented person – who loves food. She headed to Cape Town to study medicine at UCT when she was 18, where we would meet three years later. She is one of the most caring and loving people I know and always puts others ahead of herself. Fiercely loyal, she is my pillar of strength and source of life.
I was born in Pietermaritzburg, Kwa-Zulu Natal, and grew up on a small-holding farm in Ashburton. Being the son of a photographer and a midwife, I was exposed to wide open spaces and have always been a bit of a dreamer. Unlike Mandy, I quite enjoy a bit of attention (though generally not while a camera is around), though I definitely share her love of food! I also moved to Cape Town after school, to study Geomatic Engineering. In 2004, I heard that a friend was driving through from Cape Town to Port Elizabeth for a Golden Key conference and I requested a lift. Turns out Mandy had done the same thing and we ended up becoming good friends as a result. Soon I developed feelings for her and shortly after her 21st birthday we officially started dating – we have just celebrated our tenth anniversary of being together.
The Proposal
It took me three years to find the ring! None came near to the image in my head and wanting the moment to be perfect, it held me back from proposing for so long. Fortunately, my boss and good friend, threatened that should I return to work the next day without an engagement ring, there would be dire consequences at my next performance review – under the category "Getting Married". Every time Mandy and I would go overseas or on holiday, friends always suspected that we would get engaged. This meant that I had to be very creative when planning the actual proposal, so as not to attract any undue attention or suspicion. In May 2015, I convinced Mandy that we were both exhausted and needed a break from the city, so I booked a little cottage in the Overberg, nestled in a river valley. We loaded the dogs in the car and off we went for the weekend.
I felt like Frodo from Lord of The Rings, protecting the ring in my pocket while it felt like it was burning hole through my chest, as I waited for the right moment to come along. There were several near-attempts and on the Saturday evening, we made a fire in the boma (fire pit) and relaxed next to it with our wine. During the evening I asked Mandy whether she wasn't wearing one of her rings on the wrong finger. Although she said no, I asked if I could see the ring and when I slipped it back on her hand, I had replaced it with mine. Mandy practically had a nervous breakdown from excitement and declared to our beloved puppies, "My babies, you are no longer his-and-hers dogs, but now you have a real mom-and-dad family!"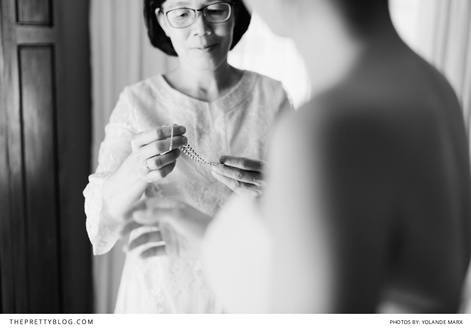 The Style
Both Allan and I love earthy, natural, green and beautiful surrounds. Langkloof Roses was an absolutely perfect representation of this. The relaxed farm atmosphere, the stunning rose and fruit orchards, the rustic old barn in which the ceremony was held – it represented us 100%.
The cherry on the top were the flower arrangements by studio BLOEM, based in Paarl, South Africa. The flowers were done in an earthy, yet bright style, which gave the feel of an ancient, magical forest.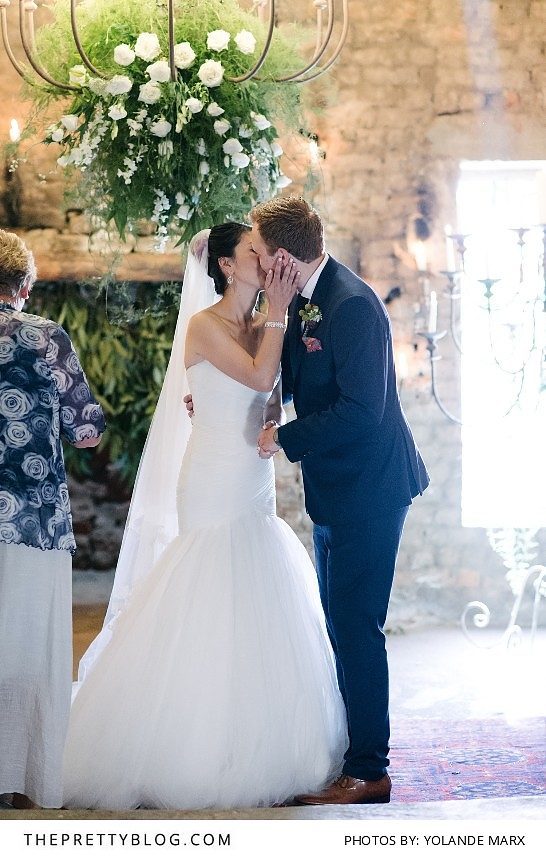 Most Memorable Moments
Groom
The most memorable part of the day was going into the golden wheat field at sunset for the couple shoot and feeling the golden sun warm us, as the cool evening breeze began to blow in. Seeing Mandy in her dress in the wheat field was magical and something I will never forget. It was simply breathtaking.
Bride
The last dance is one of my favourite memories from the day – Piano Man by Billy Joel played while Allan and I slow-danced, with all the remaining family and friends forming a circle around us. It was so special and spontaneous.
The Unexpected
We are not the type of couple to plan things down to the finest detail, so we didn't really have expectations for how things would unfold. It was simply a perfect day, though rather hot. What we loved was the spontaneity of our guests, who chose to sit under the huge oak trees on the lush green lawns to escape the heat. Oh yes, and Allan losing his cuff-links the day before the wedding was quite comical.
Tips
Lists are important, as well as getting a good wedding planner or coordinator on your team. If you have excellent, reliable, professional suppliers – like we did – then everything will go off without a hitch.
It is also so important to let go of the details on the day – you are there to celebrate your love for one another. Don't get upset when small details aren't coming together as you imagined – everything happens the way it's supposed to!
The Budget
We decided to spend money on things we loved (the food, the venue and the flowers). Money can be saved on the bar – have a cash bar, if need be!
With a beautiful venue, there is generally less need for decor, which also translates into savings.
Finally, we chose to have a smaller wedding and limit the number of guests – this made the day more special but also reduced our costs.
The D.I.Y
The wedding invites, save the dates and all guest communication were done electronically – creating the site and the invites did take a good few hours though!
Thanks!
We are so grateful for all the excellent suppliers we had – Blank Canvas for wedding coordination, Yolande Marx for photography, studio BLOEM for the Flowers, Las Paletas for the ice creams, a phenomenal DJ Blayne Oliver and of course Langkloof Roses for the beautiful venue and delicious food!