This combination of talent and freedom, showcases what it means to draw inspiration from everyday life. A celebration of heritage and natural beauty, we loved the muted tones accented by bright pops of colour from indigenous flowers. The idea of having a flower "handbag" instead of a traditional bouquet was incredible, though our favourite was the hand-painted, sequined wedding dress which is such a simple, yet unique addition to a wedding day!
Coral from Green Goddess Flower Studio tells us more about the inspiration behind this striking shoot.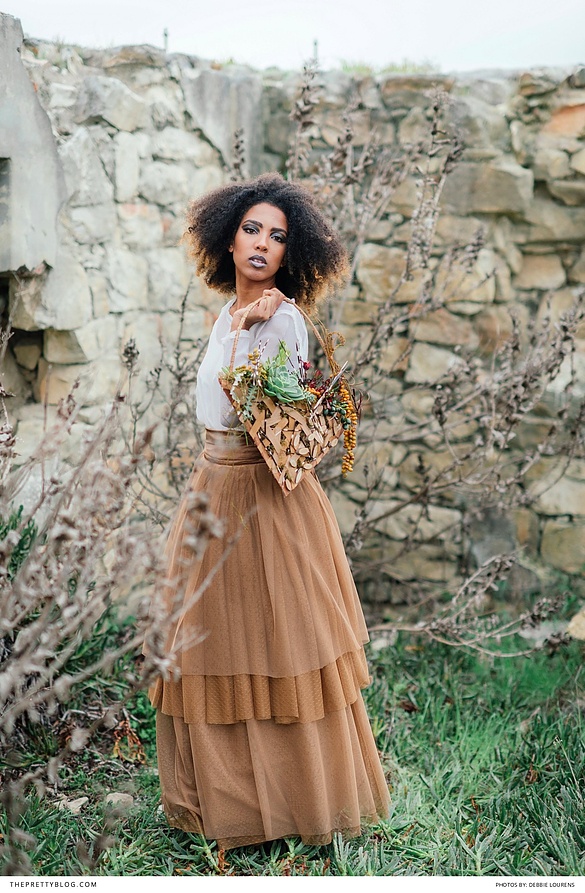 Inspiration
This shoot was inspired by my recent attendance of a Gregor Lersch workshop. Gregor is a European master florist – who challenged us to make proteas 'sexy' again. He told of how the protea has suffered a poor rap over the past years, due to lack of innovative design. So I took up the challenge and used what I learnt from his workshop – and called on my good friend and photographer Debbie to capture what I'd created.
Inspired by our indigenous proteas, they are synonymous with Africa and so the shoot progressed into a bouquet shoot for the modern African bride – the combination of traditional and non-traditional. We drew on the inspiration from the colours of the African landscape, our bride's beautiful hair and, of course, the local flowers.
Putting the shoot together
Once we decided to go ahead with the shoot, my first port of call for bridal wear was local designer Stefania Morland, whose designs are edgy and modern, all in gorgeous muted colours which are synonymous with the African landscape. The first outfit was a cream and rust outfit – selected as a simple backdrop to the very detailed florals. Stefania uses incredible fabrics and plenty of textured layers to achieve gorgeous silhouettes for her outfits, as well as hand-painted designs to create something really unique – as seen in the grey wedding dress.
The beauty
We asked Lindsey, our make-up artist, to create something dramatic and different for the bride's make-up. Kimon had really gorgeous eyes and Lindsey used amazing charcoals and mustards to highlight them – proving that you don't always have to go meek and demure with your make-up on your wedding day and yet you can still look very much yourself. Paired with silver or maroon lips, this really added a unique beauty look. Towards the end of the shoot, we added some traditional Xhosa face paint, to illustrate the beauty of this African art form. The brass necklace and cuff come from East Africa and were adorned with unusual orchids in various shades – these could be perfect for a bridesmaid or a bride who would like to add some florals, but not a traditional bouquet.
The florals
Two of the bouquets were made with a very modern European design, but with an African edge. Elements like the guinea fowl feather base in the white Protea bouquet and Leucadendron, anthuriums and other indigenous flowers in between the maroon proteas.
The ostrich egg bouquet is something I have wanted to make for years, as I have an ostrich egg bowl at home. Paired with some thorns and a delicate coral peony, it created beautiful contrast between the elements but was still a very simple floral accessory for a modern bride. The handbag bouquet is a great example of floral art for a more functional bride, who is not so keen on a traditional bouquet. Filled with succulents, fynbos and berries and accented with wood chips and porcupine quills, the colours pair beautifully with the bride's rust and cream outfit. The pink King Protea bouquet, was filled with a soft pink rose and then dusky pink orchids – a different way to use a King Protea for sure and resulted in a much lighter bouquet than usual.