Greyton is a popular weekend getaway for us here at The Pretty Blog and we love seeing weddings that showcase the natural beauty of this small town's surroundings. That's why we fell in love with Abby and Theo's chic, tropical-inspired celebration. Filled with vibrant colours and sophisticated elements, it was the perfect choice to celebrate their reception in a transparent tent. And just look at that bouquet!
Our Story
We met at the beginning of 2008 – I had just finished school and Theo was in his second year of studies at Stellenbosch University. We met briefly through mutual friends at a student bar called Tollies. It was only a few weeks later, at a braai (barbecue), that we got to know each other a bit better. We immediately hit it off and spent the whole night talking to each other, despite our friends around us. We spent a lot of time together as friends before he took me out on a date, but I didn't know it was a date until he insisted on paying the bill! He dropped me off at a friend's house in Stellenbosch after the date. Mxit was still cool back then, so a few minutes later he sent me a Mxit asking if I could come outside as he wanted to tell me something. Then it hit me and I panicked because I'd not thought it through. I tried to reschedule the 'chat session' but he said he was already outside. When I went to open the gate, trying to decide what I was going to say, he grabbed me, kissed me and said, "That's all I wanted to do." The rest is history.
The Proposal
We had been dating for eight years before he popped the question. We often go to a beautiful golf estate called Leopard Creek, just outside the Malelane entrance of the Kruger National Park in Limpopo, for a weekend escape. I think he planned the perfect engagement because he spent the day playing golf and fishing, while I drove the golf cart and took down the score. I must add that he played one of his best rounds of golf that day! Then we went for sun-downers on one of the t-boxes on the golf course. I could pick up that he was quite agitated, as he kept commenting that the other guests should leave the golf course but I didn't think much of it. Once they had left, he casually slid the ring into my line of sight and asked me to marry him. I was completely caught off guard but insisted that he get on his knee and then I said yes!
The Elements
We spent quite a bit of time discussing the type of atmosphere we wanted to create. We decided that we wanted our guests to be comfortable and feel like they're sitting at our extended dinner table. When choosing the venue, we first needed to decide where our wedding was going to take place, as our friends and family were split between Johannesburg and Cape Town. In the end, we decided to hold it in Cape Town – we loved the idea of having a weekend wedding that required our guests to travel a short way because it would allow us to spend more time with them.
We discussed the possibility of getting married in Greyton, a little town in the Overberg, before we got engaged as we felt it was one of the untouched beauties left in Cape Town. When researching venues in and around Greyton, we narrowed it down to three potential venues that had a country, informal yet elegant feel. We also didn't want to get married in a hall but rather outside or in a tent. When we visited The Oaks, we immediately fell in love with the venue and the family living there. They were so helpful and warm, it felt like we were part of their family and they were so passionate to share their prized home. Once we decided on the venue everything else fell into place. I was fortunate that my sister-in-law had a lot of experience in the wedding industry – we spent a lot of time brainstorming ways of bringing our vision to life and she referred me to a few good suppliers.
I loved the idea of a clear tent, so that it would feel like being outside with lots of lighting to give it a homey feel. Our aim for the décor was natural and minimalistic with a hint of elegance. Marianne from The Oaks was a big help with the décor and executed it to a T. She also arranged all of the flowers, including my bouquet. I really have to give all the credit to her and Anelma, from Goeters, for bringing my vision to life!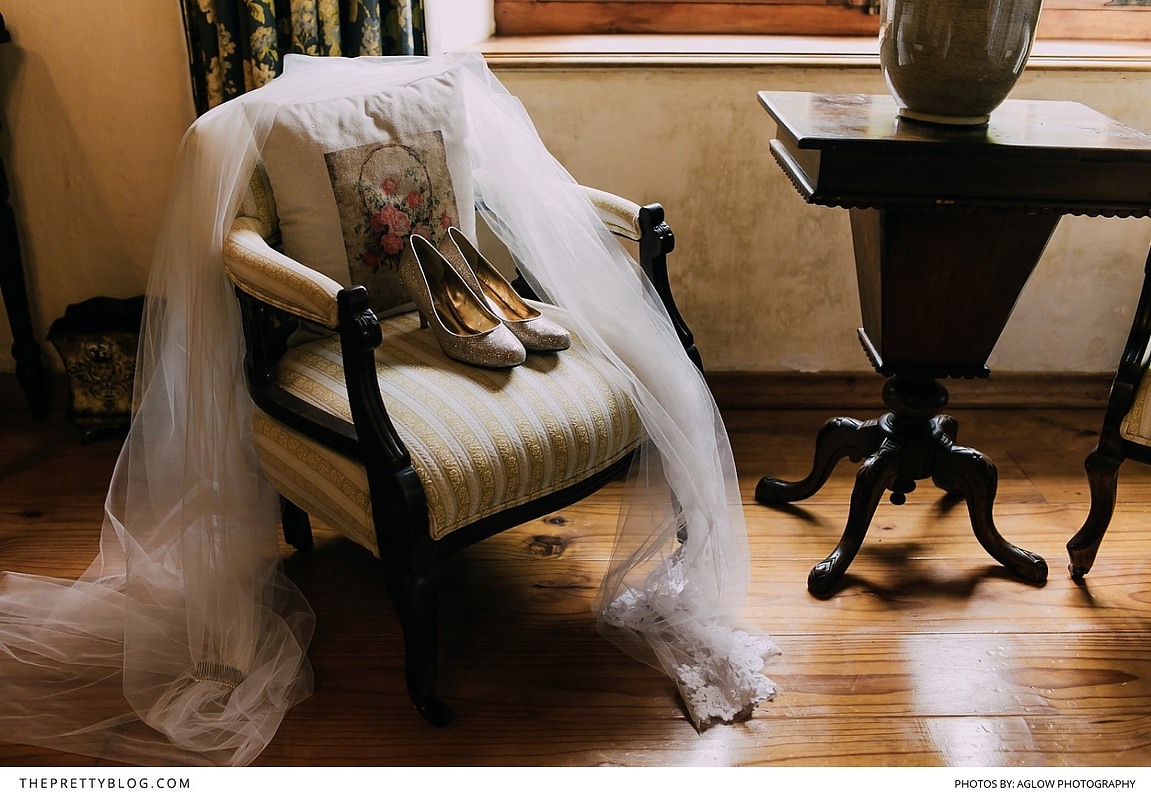 What do you love most about each other?
Abby
I love Theo for the person he is – the fact that he is so humble and cares more about others than he does himself. He is so selfless in every action and he always wants to do the right thing, no matter the sacrifice. He is an extremely positive and strong person and has an undeniable passion for life. He is talented, smart and of course incredibly handsome. I can't think of anything he can't do! I must say it is quite frustrating because I'm super competitive. He challenges me and makes me want to be a better person. He teaches me how to dream big and to be excited about the small things.
Theo
I like the way Abby keeps me calm and collected when I feel things are spinning out of control. I like the way she cares for our families and her kind and gentleness. I love that she listens to what everyone has to contribute and how she can take control of a situation in a subtle way. I admire the way she can bargain-hunt, even if it means being at the shops a little longer. She has a vision for our relationship and our life together and I appreciate the fact that she loves travelling. Most of all, I love how she just accepts me the way I am. Her smile and I did something wrong face makes everything o.k.
The Dress
The wedding dress was definitely one of my biggest challenges. I knew I wanted something classic, romantic, sexy yet comfortable. I spent a lot of time doing research on Pinterest but I couldn't find anything that caught my eye. Then a good friend of mine sent me some pictures of her planned wedding venue and I saw the dress and just fell in love with it. I contacted a well-known dress maker and we started the dress making process. I went for a few fittings but I wasn't happy with the material because I'd loved the elegant flow and thickness of the material in the pictures. I felt very stressed and confused. Then I did some research and found out that the dress was an Anna Georgina design and arranged an appointment at the boutique to try different styles and find the most flattering one.
I tried on about ten dresses and felt quite despondent but then I tried on the dress and fell in love. My posture improved, I carried myself better and felt beautiful. I called the dress designer after the fitting and she was so supportive and encouraged me to buy the dress, because she wouldn't be able to find the exact material as it was imported. After speaking to the alterations consultant, we found a few ways to alter the dress to make it feel like my own. My dress was my favourite part of the whole day and it was so comfortable, I just wanted to dance the night away.
Tips for planning a wedding
Stay true to yourself: At the end of the day your guests want to witness the true reflection of you as a couple. They will know when you are trying to be something you are not and it will reflect in the atmosphere of the wedding.
Trust your gut: You often question yourself during the planning process you, as it is difficult to visualise the full picture. You need to believe in yourself and it doesn't matter if everything isn't perfect. Also, don't be pressured into ticking all the 'wedding boxes'. At the end of the day you need to be happy and have fun!
Book your suppliers well in advance: Most wedding suppliers are booked out eight months in advance. It is important to try and book them as soon as possible to ensure you get the suppliers you want.
Make the ceremony special: This was a big focus point for us. Wedding ceremonies can often become a routine which is quite sad as it is most special part. We decided to write our own vows and ask a family member to do the ceremony. This made it so special and made us feel right at home.
Be aware of last minute expenses: A lot of last minute, unplanned expenses come up right before the wedding. You can also save some money by doing things yourself but be aware that this could add to potential stress. Don't be scared to ask for help if this is the route you want to go. We didn't do too many DIY elements but did rely on friends and family for their skills, like making the bridesmaids' dresses, flower girl dresses, stationery, and decor elements.
The Honeymoon
We had the most amazing honeymoon. We decided to keep the honeymoon a surprise for me, because I was doing most of the wedding planning. Theo was very stressed about that decision but I insisted – it was one less thing to worry about. After the wedding, I woke up feeling stress-free and so excited about the next adventure.
We drove to my parent's house, where we did some final packing and afterward I was blindfolded and told to get into the car. I was convinced we were driving to the airport because Theo kept referring to the time. Then the car stopped and he led me outside. I could smell the sea but I didn't know where we were. I could only peep through the bottom of the blindfold and saw an antique carpet and heard foreigners all around me. I was lead to our room, nearly falling down a few stairs! We went outside and he took the blindfold off. It was without a doubt, one of the most beautiful views I had ever seen! It turned out that we were at the Twelve Apostles Hotel in Camps Bay, where we stayed for two days. Theo had arranged fun activities in and around Cape Town.
After that, we went to airport and I could see on our boarding passes that we were going to Mauritius! We spent seven days in Mauritius, where we ate, drank cocktails and went for long walks on the beach. Such a treat! We spent a further six days at a house right on the beach in Jacobsbaai – a little town on the west coast of SA. We explored and went for trips to little restaurants and just enjoyed the raw beauty. These were some of our best memories!
Get some help!
The best thing I ever did was hire a wedding planner, who took over on the day. She made all of the decisions and set me at ease with her calm presence. Other than the weather, I did not know of anything else that went wrong because it was all handled by Nikki and Marianne. I was blessed to have them organising everything.