Travelling is one of The Pretty Blog's absolute favourite activities – we've all been bitten by the travel bug in the past. We enjoy exploring new cultures and eating our way through a new cuisine, so when we spotted a recent trip to the German countryside by photographer, Michelle Du Toit, we were smitten. European culture is steeped in history and this small town looked like it got stuck in time – perfect for fun adventures and new discoveries. That bicycle, though, is what really made us fall in love because there's nothing better than riding home from the bakery with fresh, traditional pastries in the bag!
Where it all started for Michelle
Recently I was asked to photograph a wedding in the picturesque town of Rothenburg Ob Der Tauber, in the German countryside. I decided to make a short holiday of it and stayed with one of my good friends, Helena.
Helena is from Cape Town, married to a German man, and they now stay in a small town called Leutenbach. I stayed with them and their baby girl in their traditional four-story house – complete with a barn! This typical German-styled house was designed for more than one family to live in.
Exploring the area
Leutenbach is about two hours away from Munich and Frankfurt. It's a very small town and is surrounded by many farms and typical countryside character. I spent the mornings and afternoons walking through farmlands and exploring the surrounding towns. I still remember the smell of freshly baked bread in the morning as you pass the corner bakeries!
The first meal I had was at a cozy local restaurant, Steak & Schnitzelmeisterei. I enjoyed a traditional Wiener Schnitzel with ham and cheese and, of course, a German beer. Their portions are almost too big to finish but the food was absolutely delicious. I spent some time with the bride before the wedding and she even invited us to her parents' house for a typical Bavarian lunch. This included Weisswurst (white sausages) served with sweet mustard, potato salad and a delicious cucumber and yogurt salad.
Summertime in the countryside
As it was summer time, with a 30-degree average, the locals loved to go out for ice cream. The streets were lined with families sitting outside at the ice cream cafes. If you visit during the warmer months, you will also find numerous fresh fruit and vegetable markets selling beautiful organic produce. One day we came across a beautiful flower market in the centre of Munich.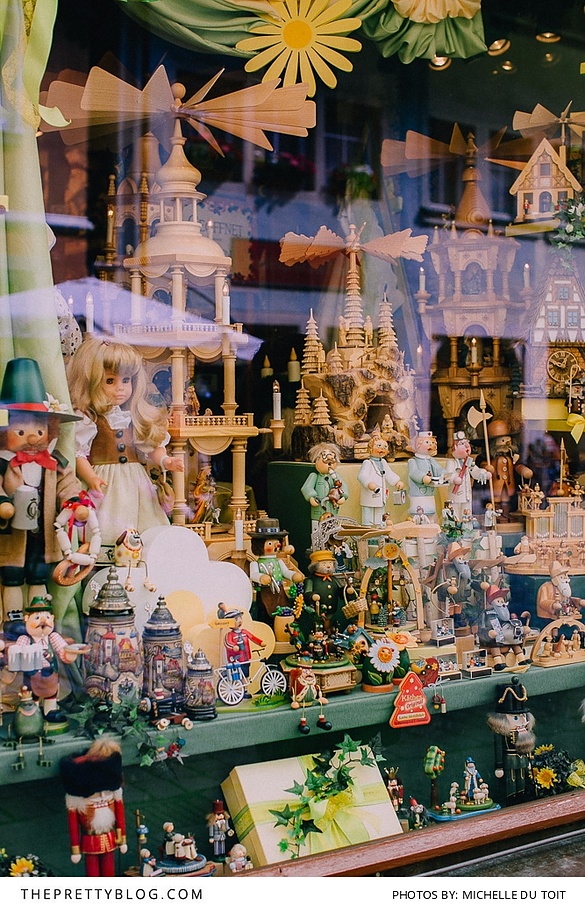 Seeing the sights
I was surprised to see the amount of forested areas surrounding us – perfect for hiking and picnics. The highlight of my trip was definitely discovering the amazing historical town of Rothenburg. The colourful buildings and cobblestone roads, multi-coloured window shutters and bright flowerbeds. It looked like a town from a real Christmas movie! Rothenburg is also well known for its year-round Christmas store and various other toy stores, as well as the historical wall that surrounds the beautiful small town.
The Budget
Budget-wise, the groceries are more or less the same as in South Africa. Eating out will cost you about 14 Euro for a good portion of food and pastries are fresh and absolutely delicious – for under 2 Euro!
A tip when travelling through the countryside (and especially the smaller German towns): be prepared by having a translation app on your phone or travel with a German speaking friend because they don't speak a lot of English and the menus are all in German.