With the cooler months approaching, we wanted to create a look which would be perfect for a winter wedding or other special occasion. The key is to use warm tones – like burgundy and maroon – paired with gold.
Items
MAC Studio Fix NC20 Foundation

MAC eyeshadow in Brule and Saddle

MAC eyeshadow in Amber Lights

MAC Teddy eyeliner

MAC splash-proof mascara

MAC bronzer and blusher

MAC soft and gentle highlighter

MAC Endless Drama lipstick
Time
Approximately 30 minutes
Method
Step 1 – Follow your normal routine
Moisturise your skin as per normal. A good moisturising product is the key to radiant skin during cold, dry months.
Step 2 – Foundation
Start with a brush or sponge to apply foundation.
Step 3 – Eyebrows
Shape your eyebrows in their natural form and work with what you have. Fill in with light strokes with your eyeliner pencil. Eyebrow shaping draws attention to the eyes and frames them.
Step 4 – Base colour
Choose a natural eyeshadow colour and apply it over the entire eye lid, all the way to the brow bone.
Step 5 – Create a natural smokey shadow
Apply a second colour into the crease of the eye. This should be a warmer tone to create depth to your natural smokey look.
Step 6 – Create some depth
Apply the Amber Lights gold eyeshadow only to the lid of your eye and blend softly.
Step 7 – Add some definition
Apply eyeliner and mascara – this really adds volumes to any look.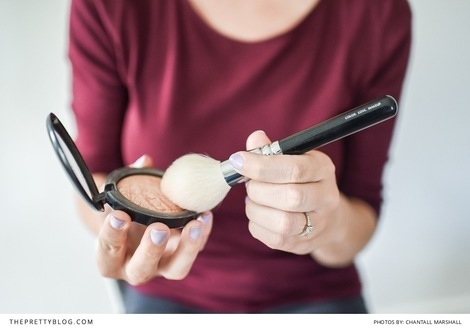 Step 8 – Contour and blush
Use an angled blush brush and a matt bronzer to shape the face. Sweep the product under your cheekbone to add definition to the face. To apply the blusher, smile and gently sweep the product from the apples of your check all the way to the hairline. Follow it to the cheekbone.
Step 9 – Natural glow
Lightly dust the highlighter on your cheekbones for a natural soft glow.
Step 10 – The lips
Use a lip-liner to frame and shape your lips. Follow your natural lip-line and use the same colour lipstick to fill in your lips.