I have to confess – I'm not usually bothered by February's Valentine's Day hype. That being said, I've had the privilege of celebrating my wedding anniversary on the 14th of February for the past 13 years. For us, Valentine's Day means more than red roses and heart-shaped chocolates, though – it's the day we celebrate becoming each other's family.
Schalk and I met 17 years ago during Maties Rag (the annual welcome week of Stellenbosch University) and we've been together ever since. It was a deep and profound love from the start.
These days, when decide to go out for dinner, we skip the Valentine's Day celebrations on the 14th and opt for a celebration of our own on the 13th or 15th. This way, we're not competing with over-booked restaurants or sold-out flowers. It's just us, enjoying each other's company with fantastic food and really awesome wine.
When we stay in, I cook a special dinner for Schalk at home. Sometimes we try new dishes and other times we stick to our favourites. One of these will always be pavlova – such a classic dessert that can be served in so many ways. Pavlova should be crunchy on the outside, but gooey and marshmallowy on the inside. This one is a new combination: a chocolate swirl with cream and dark berries. It covers all the bases of a great dessert in one go because it's chocolatey, crunchy, gooey, creamy, tangy, sweet and indulgent!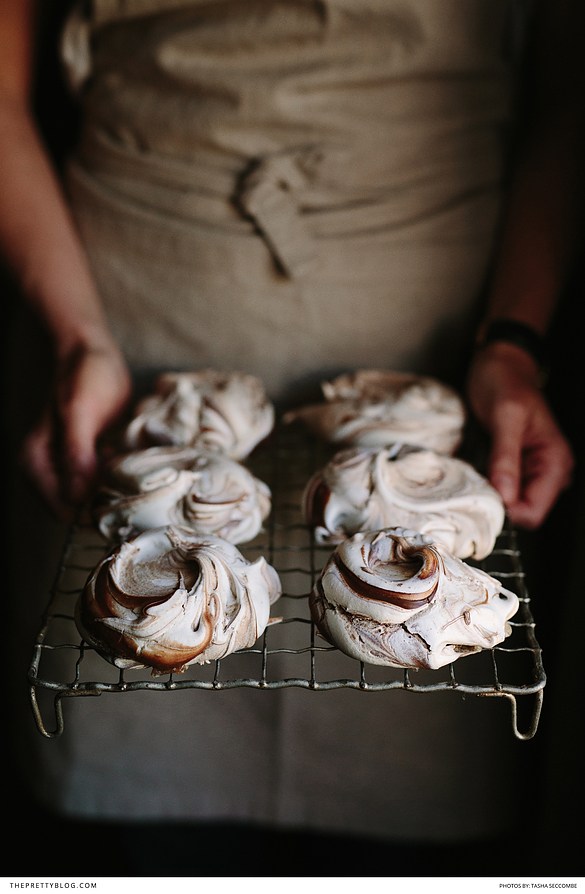 Ingredients
Makes 6 individual pavlovas
Time: 4 hours 30 minutes
4 XL egg whites at room temperature
1 cup (250ml) Caster sugar
5ml White vinegar
10ml Cornflour (Maizena)
80ml Dark chocolate, melted
250ml Fresh cream, whipped
About 2 cups fresh mulberries and blue berries
About 1/4 cup flaked almonds, toasted
Method
Pre-heat the oven to 150C. Line a standard baking tray with non-stick baking paper.
Place the egg whites in the bowl of a stand mixer. Whisk until they're white and foamy (and form soft peaks).
Start adding the caster sugar, one tablespoon at a time, every 30 seconds or so while whisking on high speed. When the sugar is mixed in and the mixture is stiff and glossy, add the vinegar and cornflour and whisk until well mixed.
Turn the mixer off. Add the dark chocolate to the bowl and use a spatula to quickly swirl it into the meringue mixture. Don't mix too much – one or two quick turns will be enough, as you want to keep the dark chocolate swirls visible (and it will continue to mix when you spoon it onto your baking tray).
Spoon the mixture onto the prepared baking tray in six individual round shapes. Place in the oven and immediately turn the heat down to 120C. Bake for 50 minutes, then turn the oven off and leave the pavlovas in the oven without opening the door to cool for at least three hours (or overnight).
When completely cool, serve topped with whipped cream, fresh berries and toasted almonds. Serve immediately.
Cook's note: Your can store the pavlovas (without toppings) in an air tight container for a day. After this, they will still be edible for another day or two, but they lose their crunch and might collapse in the middle.