These days there are so many beautiful lattice pies all over Pinterest. The most beautiful golden strips of pastry, cut into so many different shapes, criss-crossed and layered, covering delicious fruit fillings. They're almost too beautiful to eat.
I absolutely love the combination of pears, pecan nuts and caramel. I made a pear and pecan tarte tatin a few years ago and it still beats most apple versions by miles. So if you love a good pecan nut pie, this is something similar but with a fruity layer of pears at the bottom that adds to the moistness of the pie. Crunchy, buttery, gooey, fruity, nutty – the best of a pecan pie and a tarte tatin, rolled into one. Serve with a dollop of creme fraiche (or thick cream) and a swirl of caramel sauce.
Cook's note: Shop-bought shortcrust pastry delivers a fantastic visual result, but nothing beats the flavour of homemade all-butter sweetened shortcrust pastry with added vanilla – the choice is yours.
Time: for preparation about 1 hour, for baking about 45 minutes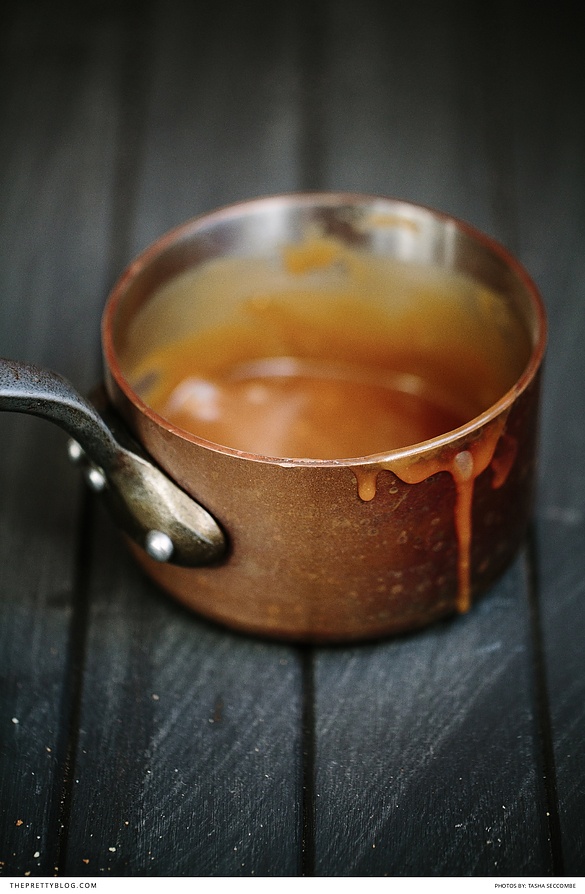 The pastry:
Makes one medium size pie
Ingredients:
100 Soft butter

125g Caster sugar

1 XL egg

5ml Vanilla extract

250g Cake flour

A pinch of salt
Method:
Using an electric whisk, whisk the butter until creamy in a mixing bowl.

Add the caster sugar, egg and vanilla and whisk until well combined.

Add the flour and salt and whisk until the mixture starts to come together.

Turn out on a clean working surface and knead lightly until it comes together in a ball.

Flatten slightly to make a disk shape.

Cover with plastic and refrigerate for 30 minutes.
The caramel sauce:
Ingredients:
125g Butter

250ml Demerara or muscovado sugar, tightly packed

125ml Cream

A pinch of salt
Method:
In a small saucepan, melt the butter over medium heat, then add the sugar and stir.

Turn the heat up to high and bring to a boil, stirring until the sugar has melted and the mixture starts to become foamy.

Add the cream and stir until it is completely smooth.

Add the salt, stir and remove from the heat.
Assembling the tart:
Ingredients:
1 Batch pastry

About three firm pears, peeled and cored and finely sliced

100g Pecan nuts, roughly chopped

1/2 Batch caramel sauce (you'll use the other half for serving)

1 Egg, lightly whisked (for brushing)

Some granulated sugar, for sprinkling
Method:
Pre-heat the oven to 180C. Roll out half of the refrigerated pastry on a well floured surface to a thickness of about five millimetres.

Line a greased, fluted, 23cm pastry tin with the pastry and trim the edges neatly. Use a fork to prick the pastry all over.

Arrange the sliced pears (overlapping) on the bottom, filling it about 2/3 to the top.

Drizzle with some caramel sauce. Arrange the chopped pecan nuts on top of the pears.

Pour the rest of the caramel sauce all over the nuts and pears.

Roll out the second half of the pastry, then cut out strips for plaiting and shapes for decoration (place some of the loose shapes on a separate lined baking tray, keeping them neatly in tact for decoration).

Top the pie filling with the pieces and strips of pastry, making your own decorative pattern/design and trimming the edges neatly. Carefully brush with egg, then sprinkle with sugar.

Bake the pie at 180C for 45 minutes or until golden brown and bubbly then remove from the oven and leave to cool on a rack. Bake the extra pieces of pastry on the baking tray for about eight to ten minutes until golden brown.
For serving:
Carefully remove the fluted ring, then top with extra pastry shapes. Serve warm or at room temperature th a dollop of cream, ice cream or creme fraiche and more (warmed) caramel sauce.